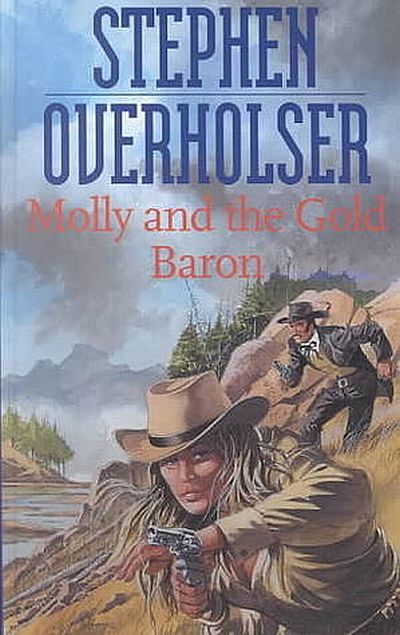 Stephen Overholser is the son of acclaimed Western author Wayne Overholser, who's followed in his father's footsteps as a writer of Westerns; both father and son have been Spur Award winners. The younger Overholser created the character of Molly Owens as the protagonist of one of his early novels, Molly and the Confidence Man (1975), and went on to write five more novels featuring her. Orphaned young, Molly and her now-deceased brother survived a rough childhood on their own; after he came West, she answered an ad and went to work for the Fenton Detective Agency, which is fictional, but modeled on the real-life Pinkerton Agency –which actually did employ women detectives, Kate Warne becoming the first in 1856.
Overholser set much of his work in his native Colorado; Molly's based in Denver, and this tale is set in the real-life Colorado mining boom town of Cripple Creek in ca. 1893. That setting is actually drawn with considerable accuracy, and the depiction of the community's history and labor troubles in that period reflects actual realities, with some license and changing of names. (I'll give Overholser credit for doing serious research.) While I wouldn't describe the author's characterizations as sharp, Molly comes across as a kind person who cares about justice, as well as both brave and capable. She approaches her detective work with good observation skills and intuition (and isn't above picking a lock or two if that's what it takes to hunt for evidence).
Sue Grafton's Kinsey Milhone, debuting in 1982 in A Is for Alibi, is usually considered literature's first gun-packing female detective who could handle rough stuff if the baddies wanted to throw it at her. Yet Molly preceded her by seven years and is no shrinking violet where combat is concerned, either with her double-action Colt or with her fists and feet (and she can deliver a pretty nasty head-butt as well); she just was never noticed by mystery-genre critics because her venue is in a different genre. Here, her assignment calls for her to get to the bottom of a pregnant prostitute's bogus paternity suit against a newly-rich prospector; but the case soon morphs into an unauthorized murder investigation, in the context of a labor dispute between mine owners and mine workers that threatens to become a blood bath. (Some on both sides are up for illegal violence, but the mine owners and their thugs are the more dangerously violent.)
As is true of some other works in this genre that I've read, the author's prose style is mediocre, adequate but uninspired, workmanlike pulp that does the job in an undistinguished way; he tells the story and allows you to picture the action and settings, but this isn't a novel you'd read for scintillating dialogue, vivid turns of phrase, telling details, or description that soars and sings. His plotting is on a similar level; towards the end, a couple of characters make some decisions that serve the storyline, but struck me as dubiously likely to have been made had this been a real-life narrative in the same situation. The mystery element isn't very deeply mysterious in the long run.
Despite its flaws,though, I basically liked the book as passing light entertainment, and liked and admired the heroine for her genuine good qualities. Personally, I won't bother seeking out the rest of the series; but if you're a Western fan who doesn't demand much from your books and read for recreation, you could certainly pick a lot worse books, with a lot worse messages. And at 172 pages, it's a relatively short read, and doesn't require a lot of thought.
Note: Bad language, of the d-word/h-word sort, is minimal and Molly herself pretty clean in her own speech; I wouldn't guarantee that she never lets a cuss word slip under stress (I don't have the book in front of me to check) but she certainly doesn't make it a noticeable habit. There are three explicit sex scenes. (They can be skipped over with no loss of anything.) However, this isn't a romance as such, nor is it a trashy "adult Western".
Author: Stephen Overholser
Publisher: Bantam, available through Amazon, currently only as a printed book.
A version of this review previously appeared on Goodreads.