"Virtually game for anything."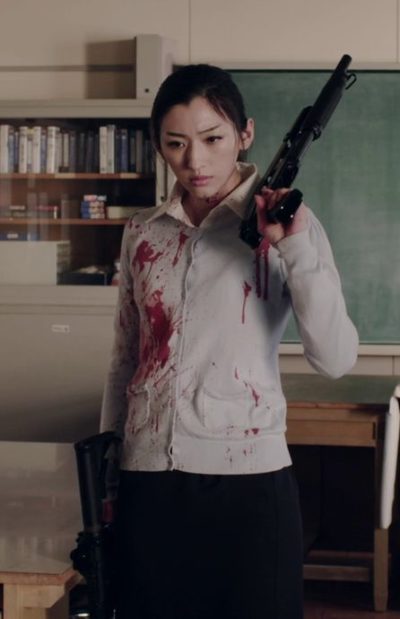 A bus full of Japanese schoolgirls includes the quiet, poetry-writing Mitsuko (Triendl), who drops her pen. Bending down to pick it up, she thus survives the lethal gust of wind which neatly bisects, not only the bus, but the rest of her classmates. Ok, film: safe to say, you have acquired our attention. [Not for the first time the director has managed this: the opening scene of his Suicide Circle is one we still vividly remember, 15 years later]
What follows is an extremely hyper-violent gallop through a series of scenarios, with Mitsuko and her friends becoming the target for assaults by everyone from teachers to bridesmaids. Can she figure out what the hell is going on, with matters not helped by her apparent amnesia, with no memory of everything prior to the bus? And, more importantly, is the film going to be able to deliver any kind of rational explanation for this?
The further this went on, the less convinced this would be possible. However, I have to say, it ends up making far more sense than I expected. It even explains things as disparate as the fairly lecherous costume choices (the schoolgirls' skirts are more like broad belts, and frequently fly up in anything more than a light breeze) as well as the extremely drone-heavy cinematography. On reaching the end, I immediately wanted to watch this all over again, armed with the provided explanation, and see what other clues I had missed.
There's a lot to admire here: it plays almost like a cross between Sucker Punch and Run Lola Run, combining the slick visuals and "anything can happen" mentality of the former (and has been similarly condemned), with the latter's… Well, mostly its running. Seriously, Triendl (who is Austrian-born, hence her non-Japanese surname) racks up as many miles in this 85 minutes as an entire series of Doctor Who companions. But not just her, because even more confusingly, her character is played by multiple different actresses across the various scenarios.
Interestingly, until the very end, there are almost no men in the movie at all, save the pig-headed bridegroom, to who our heroine will be wed. Perhaps that's a clue in itself to the nature of the multi-verses around which Mitsuko finds herself bouncing. It's fascinating to watch everything unravel, and the lead actresses do very well, in a role or roles that could have been little more than a place-holder. Watch the emotions flickering across Triendl's face, for instance, as she tries the virtually impossible task of explaining to one of her friends what she has gone through.
There's no denying the strongly feminist subtext here, providing you can look past the chauvinist trappings and arterial spray. Sono is both embracing and critiquing the exploitation world in which he has largely operated, although does so with a light enough touch, you can simply enjoy it as a blood-drenched action film, rather than having to worry about its philosophy. And the less you know about it going in, perhaps the better.
Dir: Sion Sono
Star: Reina Triendl, Mariko Shinoda, Erina Mano, Yuki Sakurai