"Girlfights."

The WWE and women's wrestling have had a fractious relationship over the years. For every two steps forward, there has been one – or, more often, two – backward. But under Executive Vice President of Talent Paul M. Levesque, better known by his ring-name of Triple H, there have been hopeful signs of progress. Perhaps the biggest of late was WWE staging an all-woman tournament this year, featuring 32 wrestlers from 13 different countries. This was named the Mae Young Classic, in honour of one of the field's pioneers and longest-serving members; she wrestled from 1939 through 2008, and passed away in 2014.
It was a little surprising that both Japan and Mexico, likely the biggest pro wrestling markets outside the US, only had one competitor each (fewer than, say, Scotland or Australia). This could be a result of most existing talent already being under contract to federations in those countries. Otherwise the 32 wrestlers included a surprisingly broad range. There were both veterans and newcomers: Mercedes Martinez has been wrestling since 2000, while Indian Kavita Dalal only started training last year. Similarly, styles represented a broad range: some had MMA backgrounds, others were pure pro wrestlers.
In terms of looks, there was generally a certain "body type", lean and muscular – though that didn't quite apply to Scotland's Piper Niven, billed at five foot five inches, and 207 pounds, though remarkably agile for it. But there was a significant variety in size, ranging from the 5'1″ Kairi Sane, up to those a foot taller (the pic, top, significantly evens this out!). However, as they say, it's not the size of the dog in the fight, and that was proved frequently true over the 31 matches in the tournament. You could never be sure who would prevail. [Just to be clear: I am entirely aware that all the results were pre-determined. But "good" pro wrestling, like good cinema, is at its most enthralling when it avoids predictability]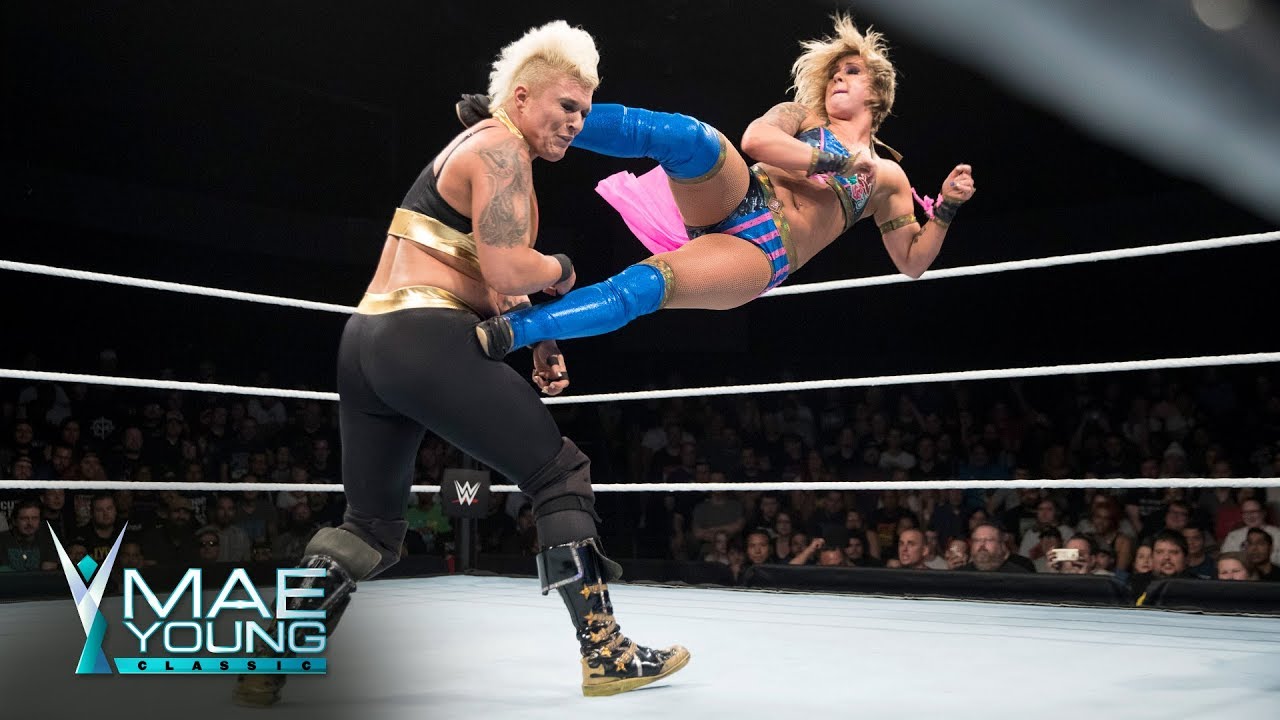 One thing I noticed was the particularly direct nature of the episodes. If you watch a typical episode of, say, Monday Night RAW, considerably less than half of each show will be actual, new wrestling. Between the various story-lines, chit-chat in and out of the ring, recaps and so forth, our son may not be far wrong when he calls it "soap-opera on steroids. The Classic was much more streamlined: with typically four bouts per episode, it had to be. Before each, you'd get a minute or so about each competitor, and then it was straight to the in-ring introductions. I was fearing this would end up being some kind of Total Divas-like, bitchpocalypse atrocity: those concerns proved completely unfounded.
It's a little difficult to review without spoilers, which we were largely able to avoid – like any "real" sport, it's a lot more fun to watch wrestling when you don't know the outcome. So I'll just go with some notes on the five competitors who stood out the most for us, in alphabetical order. Wild horses could not make us reveal whether or not they won any of their matches. :) I will say, it was a heck of a lot of fun, and I'd love for it to become an annual fixture on WWE's calendar.
Shayna Bayzler (USA). Chris described Bayzler as "a female Brock Lesnar," and that's likely an accurate comparison. She became the wrestler we loved to hate, mostly for her thoroughly intimidating, take no prisoners attitude. While she'll need to work on her wrestling technique, which is a little rough, there's a lot of promise here, particularly as a heel.
Jazzy Gabert (Germany). At 6'1″, the tallest competitor, and with her short, platinum blonde hair (seen above), reminded us strongly of Brigitte Nielsen. Another veteran, wrestling since 2001, if you were going purely on who looked the part most impressively, she'd be the winner of the tournament. Only disappointment? She didn't say, "I must break you…" to her opponents pre-fight.
Dakota Kai (New Zealand). Was already signed to a contract to WWE's developmental show, NXT. Kai's match was far and away the most-watched first-round contest on YouTube. Her kicks are lethal, many and varied. She looks like she has been teleported straight to the ring from a video-game like Dead or Alive.
Mercedes Martinez (USA). You could really tell the depth of her experience, both in terms of ring technique and psychology, and that helped elevate her less well-practiced opponents. Seemed to be playing the "gangster" heel for the purposes of this show, and did so effectively enough to irritate the hell out of Chris during her run. Which was likely the point!
Kairi Sane (Japan). Won us over completely with her heart and attitude, as she looked genuinely pleased to be there, and her elbow drop from the top-rope is a thing of wonder. [Typically, wrestlers break their fall somewhat with their legs, but Kairi leads with her elbow. This GIF likely explains it better!] Her first-round contest against Tessa Blanchard might have been the match of the tournament. Here are some highlights.