"Slightly short of a wonder."

I'm not an enormous fan of either the Marvel or DC Cinematic Universes. Superhero films tend to bore me: the concept in general seems like lazy writing, and nor can I handle the subsequent contortions needed to generate a credible threat e.g. Kryptonite. The Dark Knight is the only film from either stable that I actually possess, mostly due to Heath Ledger's incredible performance. The others I've seen, from Iron Man through to Suicide Squad, have been no better than popcorn pleasantries, without much to offer in the way of emotional heart. That's the biggest improvement Wonder Woman offers: a heroine who, as personified by Gal Gadot, cares – indeed, perhaps too much. And through her passion, she makes the audience care.
There's one scene which particularly demonstrates this. Diana (no-one ever calls her by the WW label here) has just arrived at the front in 1918 Belgium, and is experiencing the hell of modern war for the first time. She is horrified by the suffering of the civilians and refuses to accept the explanations of her partner, US Captain Steve Trevor (Pine) about why nothing can be done. She won't accept it, and goes over the top on her own, leading by selfless example, to rescue people she's never even seen. It's true heroism, and the intensity of Gadot's performance – with a nod to Pine for the set-up – gives it a wallop that in terms of sheer emotion, surpasses almost anything else delivered by Marvel or DC to date.
To reach that point, however, takes quite a lengthy set-up. We begin with the adorable young Diana, watching the other Amazons training on Themyscira, imitating their kicks and punches in a way a million 8-year-olds were likely doing on the way home from the cinema this weekend. Despite her mother's wishes, Diana is trained and becomes the Amazons' top warrior, just in time for Steve to show up, hotly pursued by the Germans. This is because he has stolen documentation of a rogue chemical warfare program, run by Doctor Isabel Maru and General Ludendorff (Huston). After helping fend off the Germans, at considerable cost, Diana agrees to go into the world at large, because she believes the Greek god of war, Ares, is behind the program. She's not ready for the world. And nor is the world ready for Diana…
The positives here greatly outnumber the negatives, starting with the cast, who are almost universally spot-on. Gadot may not be muscular enough for some as an Amazon goddess, but I can honestly say, that was an issue which never crossed my mind during the (perhaps a little long) 141-min running time. Any possible shortcomings physically, are perfectly well-covered by the intensity and dedication of her performance. Pine, too, is excellent: he grounds the film, acting as the audience's voice and offering up much the same comments as we would. There is romantic tension between Steve and Diana, yet it's lightly enough handled not to interfere. The supporting cast…well, they provide solid support, led admirably by Etta Davis as Steve's secretary. My main qualm might be Huston, who isn't the supervillain every good superhero(ine) needs: he's no Heath Ledger, put it that way. Dr. Maru might have made for a better antagonist, though the script has other intentions for her.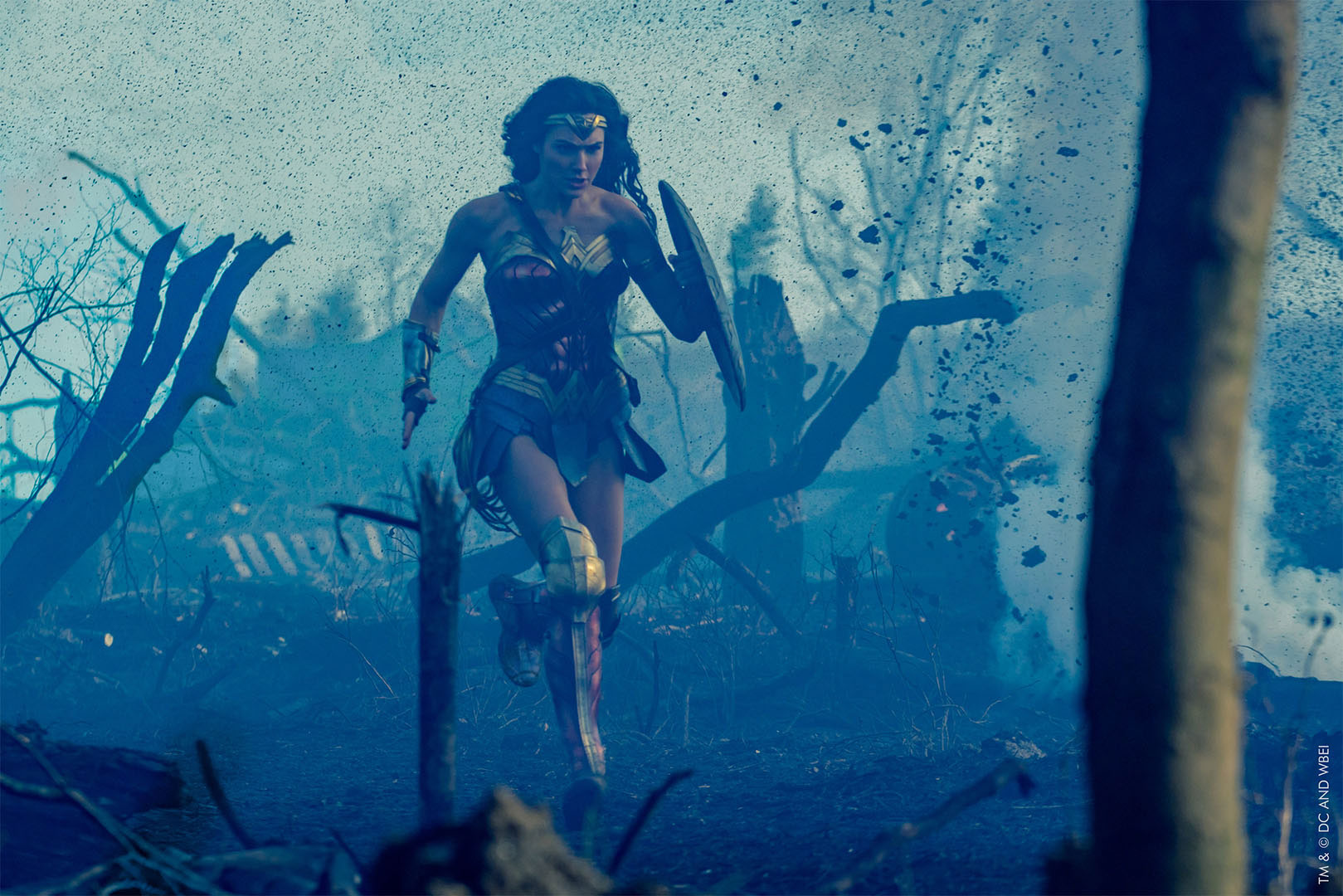 Technically, it's good, rather than great. Jenkins does occasionally succumb to the fast-cut style of editing, and some of the green-screen work is frankly ropey. Witness the 8-year-old Diana falling off a cliff, for instance, which really does not look like comes from a $150 million film. The script is similar: the main twist it offers is one which I guessed almost immediately (if you've been watching a current TV show, you likely will too), though it didn't damage my enjoyment too much. It is occasionally a little… well, smug? Is that the right word? I'm not sure, but that's how exchanges about the war like this come off:
Trevor: Maybe we're all to blame.
Diana: I'm not!
#WellActually… I'd say that being part of a group which hides in a literal bubble for two thousand years does not absolve one of all responsibility for the state of the world. To slightly misquote Edmund Burke, "The only thing necessary for the triumph of evil is for good women to do nothing." Anyway, this is me, cringing at the earnest obviousness of the above. Or obvious earnestness. That it stood out, however, indicates it was more a misstep than a consistent direction.
Good thing too. For I hate the way almost every major motion picture with an action heroine nowadays, seems to turn into World War One itself. From Fury Road through Ghostbusters to Rogue One, they become a battleground for gender trench warfare, with the camps lobbing verbal bombs at each other, and taking no prisoners. Look: if the goddamn movie is robust, it doesn't matter whether you have a hero or a heroine, unless you make it matter. [That's where George Miller was smart and Paul Feig wasn't, perhaps reflecting the former's superior confidence in his material – and he was justified there] Here, this is exactly what you would expect: the title is the movie. No kudos are deserved for it, nor any criticism. If you are somehow upset by the concept, stay away, and don't whine about it. Nor is it the deeply life-changing experience some allege – or, at least, if your life is dramatically changed (by this or any other Hollywood product), I'd guess you have other issues. Or possibly, are aged eight.
I do wonder what the character's creator, William Moulton Marston would have thought, seeing his bondage-heavy heroine turned into a glossy major movie. Especially since history is littered with not-very-good comic adaptations featuring female leads: Brenda Starr; Sheena; Supergirl; Tank Girl; Catwoman; Elektra; Painkiller Jane. To tell the truth, I think I was personally more relieved than anything, that this did not exhibit a similar degree of suckage. It was a very, very high profile effort, and failure, commercially and/or critically, would have had a severely dampening impact on any similar future productions. This doesn't appear to have happened, and its success will hopefully open the door for more top of the line action heroines – some of which could end up being even better. Meanwhile, we're bracing ourselves for the tidal-wave of little Diana Princes which will swamp our doorstep on Halloween.
Dir: Patty Jenkins
Star: Gal Gadot, Chris Pine, Danny Huston, David Thewlis