"Clubbed to death."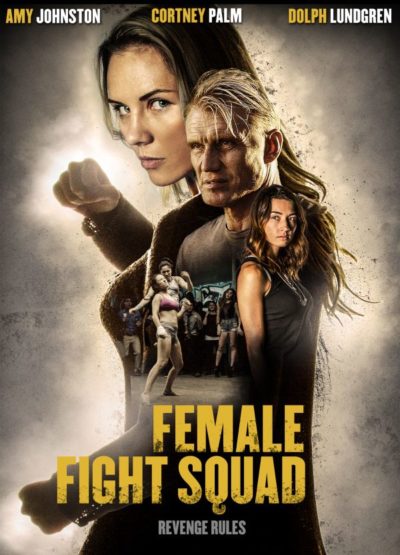 This was originally known as Female Fight Club. I presume the title was changed after a strongly-worded letter from David Fincher's lawyers, perhaps to evoke thoughts of its star's stunt work on Suicide Squad. It's interesting, because Amy Johnston's previous feature, Lady Bloodfight also underwent a similar title change before release. Unfortunately, this isn't as good. It reminds me a bit of the films Zoë Bell appeared in, early on in her career. She was usually the best thing in them, but they still weren't up to much, because Bell was still finding her feet as an actress. Similarly here, there's no denying Johnston's talents in motion, yet this does not offer a good setting in which they can be appreciated.
For where Bloodfight played to her strength and packed in wall-to-wall action, here she's required to do the dramatic lifting here and… Well, let's just say, when you're out-acted by Dolph Lundgren, it's never a good thing. The story is no better than boilerplate nonsense as well. Rebecca (Johnston) is a former fighter who now works in an animal shelter, because cute puppies. She is forced out of retirement to help her sister, Kate (Palm), who is a hundred grand in debt to some very nasty people. They are led by the creepy Landon Jones (Goyos) and his well-stocked freezer, which is used not solely to store his chosen variety of ice-cream. And he just happens to run an underground all-women fight ring, which Rebecca can enter. What are the odds? Meanwhile, the sisters' father (Lundgren) is in prison, serving time for a crime he may or may not have committed, and has his own issues to deal with there.
Cue the rolling of eyes. It all rumbles along, from one cliché to the next, and if you've seen as many straight-to-video action flicks of the past couple of decades as I have, you'll understand why this one largely failed to register. The only saving grace are the fights, which are well-enough staged. Johnston clearly knows her stuff, and there is good support from other women with a similar background, such as Michelle Jubilee Gonzalez, playing Landon's top fighter, known as "Claire the Bull". The problem is, there just aren't enough of these scenes, and the film escalates, inexplicably, to a fight between Rebecca and Landon. The latter was never established as any kind of bad-ass previously, so this makes little or no sense.
I'm still excited to see where Johnston goes from things like this. Right now, she has some room for improvement, both on the acting side and in her choice of projects. But both of these are areas where more experience should naturally lead to positive development. That's exactly what happened with regard to Bell, who has worked her way up to become of the more reliable action actresses. I get the feeling Johnston has much the same potential, and there's certainly room for them both in the field.
Dir: Miguel A. Ferrer
Star: Amy Johnston, Cortney Palm, Rey Goyos, Dolph Lundgren