"Out of the frying-pan and into the fire goes our heroine."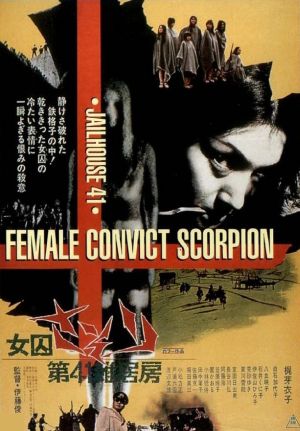 Right from the start, Nami (Kaji) established her utterly hardcore credentials, as she's trying to dig her way out of the dungeon where she has been for the past year. With a spoon. Held in her teeth. She's let out for the day because a bigwig is visiting, but takes the opportunity to attack warden Goda (Watanabe), almost depriving him of the sight of his other eye. As punishment for the resulting riot, Goda sends four guards to gang-rape Nami, and all the inmates are sent to a hard-labour camp. On the way back, they beat Nami as punishment, leaving her near-dead but it turns out that was just her ruse to get the guards to open the back of the van and escape. She leads the women across a blasted landscape, revenge once more on her mind, with Goda's men in hot pursuit.
It doesn't work quite as well as the original, in part because Nami's motivation isn't as clear and powerful: it's only at the end that I realized who she was out to get (and, for the second time, we get a climax on a roof that, remarkably, actually ends, without someone toppling off it). It's just not as strong a motive, considering everything she has been through by that point, and her terseness reaches almost epic proportions, so isn't much of a help. Second time round, Ito has reined in the sexual aspects considerably, but has upped the surrealness, as if to make amends, and the results are a couple of truly brilliant sequences. One has a body turn into leaves and blow away, while the other sees a literal river of blood announce the death of a character. However, once they break out of jail, Nami seems largely passive, observing proceedings rather than driving them, and that deflates her value as a heroine.
It'd certainly be wrong to describe this as a failure, because it is undeniably successful at generating the atmosphere and tone desired by Ito, and Kaji is as charismatic as ever, with a powerful screen presence few actresses of any era can match. However, those elements exist in something of a vacuum here, and the results, while worthwhile, are less effective than I seemed to remember them.
Dir: Shunya Ito
Star: Meiko Kaji, Kayoko Shiraishi, Fumio Watanabe, Yukie Kagawa