"Mice-ensed to thrill… Albeit, barely."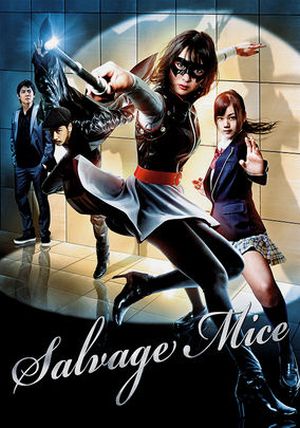 Mai (Tanimura) and her partner (Sato) form a team – the titular rodents – who recover art and artifacts, and return them to their "rightful" owners – quotes used advisedly, it's vague on the details. However, Mai is betrayed, and framed for the robberies actually being committed by the gang operating under the Evil Western Dude (Heselton, who was also the main villain in Karate Girl). Mai encounters Mio (Nagano), part of 'Hiroshima Cleans', a group of volunteers who help keep the city tidy. Initially, Mio thinks Mai is the villain, but is eventually convinced that the real bad guy is elsewhere, and the pair team up to take on the villains, including both Mai's ex and Evil Western Dude.
The main problem is Tanimura, who is incredibly unconvincing in terms of martial-arts skills. Even though her character is supposedly more thief than fighter, there is much more of the latter than the former, and she simply isn't up to it. Nagano fares rather better in this regard, and there are a few sequences which are decently put-together and well-executed. However, even here, you still find yourself yearning for a presence like Rina Takeda or Jeeja Yanin, who are capable of really upping the pace and delivering blows that look like they have real impact. Too often, that's not the case, especially when the heroines team up to take on Evil Western Dude.
What works a little better than expected is the stuff around the edges, like Mai pretending to be a tourist to lure Mio into befriending her, or Mio's relationship with her non-violent colleague in Hiroshima Cleans. This kind of stuff could be grating, but it's handled with a light enough touch to pass for frothy entertainment, and fits with what could be a showreel for the Hiroshima Tourist Board. There's more than a hint of anime series Saint Tail here, and it's entirely PG-rated. That's not necessarily a bad thing, but here, its more blandly inoffensive than family-friendly, and passes the time acceptably, without being at all memorable.
Dir: Ryuta Tasaki
Star: Mitsuki Tanimura, Julia Nagano, Tomohito Sato, Richard Heselton