"Before she was Agent Carter…"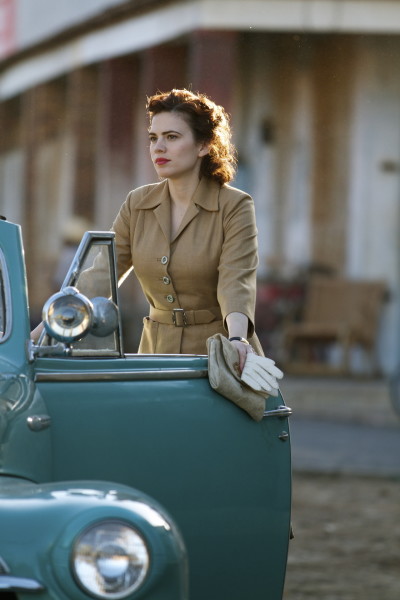 Watching Atwell walking the streets of forties New York as British agent Eva Delectorskaya does little to dissuade you from the feeling that this could be a prequel to Agent Carter, telling about some of her wartime exploits, before she goes to work for the Strategic Scientific Reserve. There's actually a good deal more going on: the two-part TV miniseries starts 30 years after the end of the war, when Sally Gilmartin (Rampling) reveals to her daugher, Ruth (Dockery), the truth about her identity as the former Miss Delectorskaya, recruited in pre-war Paris by British intelligence, after her brother is killed by fascists. After things kick off, she is sent first to Belgium, and then to New York where she works on efforts to get America into the war, and continues a relationship with her boss, Lucas Romer (Sewell). However, sent on what appears to be a simple courier mission to New Mexico, she finds evidence pointing to another agenda, and which suggests a traitor within the department. It's this which leads to her going off-grid: but it appears her fake identity has been compromised back in the present day, with her home under surveillance, by person or persons unknown.
The vast spread of this, taking place over four decades or so, requires the use of two actresses to play the lead, and that can often be an issue. However, here it's possible to imagine Atwell aging into someone like Rampling – if you look at pictures of the latter from the seventies, they are not entirely dissimilar. [It certainly works much better than the idea of Sewell becoming Michael Gambon, which is the other half of the equation] At three hours, this may be a bit over-stretched, particularly in the second half, where there seems to be a lot of going from one place to another without much purpose. Contrast this to the tenseness delivered by the first part, in particular when Eva and Lucas go to a Dutch border town, where a Gestapo officer is supposed to be defecting, only for the operation to go horribly wrong after a botched exchange of pass-phrases. But whose fault was that? I'd like to have seem more of these thriller aspects, as Hall (who has worked both on Spooks and Strike Back) seems to have a good handle on these.
The ending was a little bit of a damp squib as well: it became apparent early on who the traitor is, if only because all the other credible candidates get bumped off. From that point, you are more or less waiting for the inevitable face-off between the parties concerned, although the acting abilities of those involved certainly help. After a few years, in the acting wilderness, Rampling seems to be undergoing a bit of a late career renaissance, between roles like this, and in Dexter and Broadchurch. Maybe she'll follow the footsteps of Helen Mirren and become an action heroine for the older generation: on the basis of this, she would probably do rather well.
Dir: Edward Hall
Star: Hayley Atwell, Rufus Sewell, Charlotte Rampling, Michelle Dockery