"Raze-ing the standard."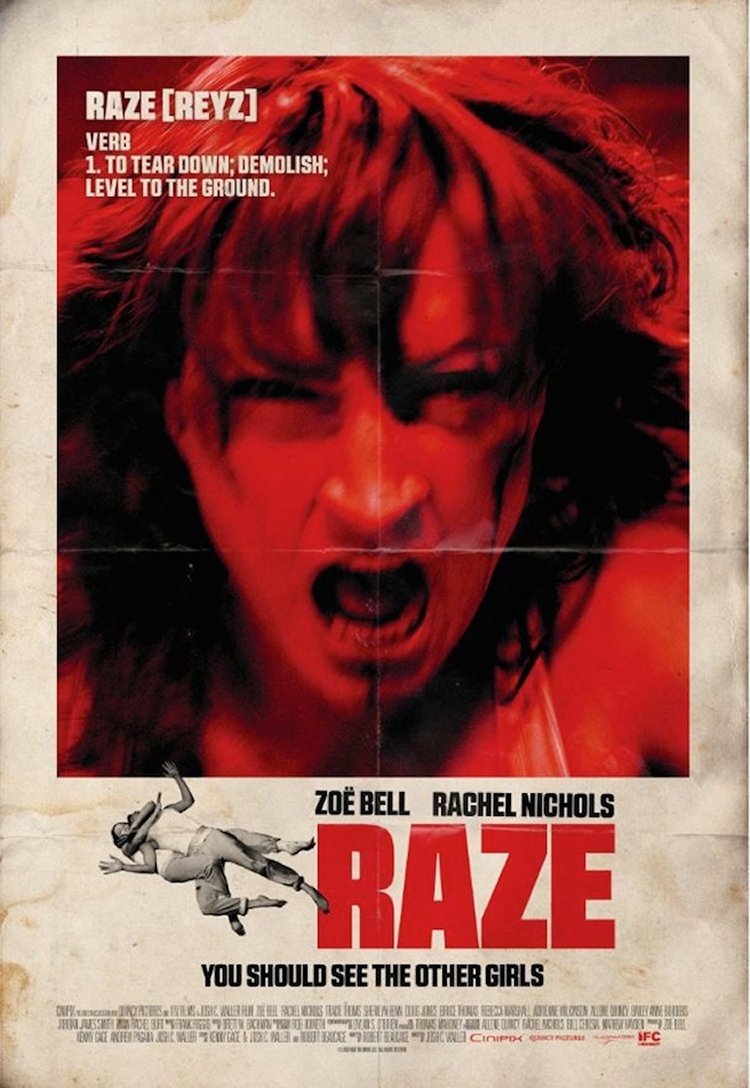 It's interesting to read other reviews, which span the range from "This ugly, dull and idiotic actioner doesn't know if it wants be fun or grim. It winds up simply bring deplorable exploitation," to "an incredible action film… giving viewers exactly what it promises to give without pulling any punches or wasting time. I absolutely loved it." This seems to be one of the cases where your preexisting mindset may determine your reaction, as much as any qualities of the movie. There's not really any other way I can see, to explain a reaction like the former. I mean, "deplorable exploitation"? Really? There's no nudity at all, and indeed, the basic plot is familiar from any number of films with male protagonists, which somehow managed to avoid such sniffy critiques. Rather than JCVD, say, being forced to kick arse in an underground fighting tournament, it's Zoë Bell. I'm down with this, and also find the complete lack of any romantic interest, for example, a refreshing change [as contrast, we watched this the same day as Killer Women, which wheeled out so many clichés, it needed a separate trailer for them].
It does throw something of a left-turn at the beginning, starting with Jamie (Rachel Nichols) waking to find herself in an underground bunker. More casual viewers – which would not be anyone here, we trust – will assume she's the heroine. They're in for a nasty shock, as she meets another prisoner, Sabrina (Bell), and in the ensuing fight, Jamie's head is reduced to something resembling an uncooked pizza, in both shade and texture. Sabrina is apparently ahead of the curve, being aware of what's going on. 50 women have been hand-picked for their fighting ability, and have been abducted to take part in a series of fights to the death, their participation ensured by threats to their loved ones [it's implied that women are more susceptible even though, for example, Sabrina gave up the daughter at risk for adoption over a decade ago]. This is under the control of Joseph (Jones) and his equally-nutty wife Elizabeth (Fenn), who appear to have been at this for some time, providing viewing pleasure of a select group of spectators, though the logistics are left kinda vague.
Of the 50, we see only one small corner, less than ten of the women, focusing on Sabrina as she makes her way through the competition. It's obvious from the first time we see the others who her nemesis is going to be. Phoebe (Marshall) appears to be genuinely enjoying the chance to unleash her inner psychopath, and to some extent, you're left to twiddle your thumbs waiting for the inevitable face-off to occur. The other women, including fellow Death Proof alumni, Rosario Dawson and Tracie Thoms, aren't given much more than extended cameos: while still personalities to some degree, these are quick sketches, not enough to do more than trigger a vague burst of sympathy, before their lifeless corpses are being dragged out of the stone-lined ring. However, Sabrina vs. Phoebe is far from being the end of the matter. Indeed, it's thereafter that things become most interesting, as we eventually enter what the inter-title accurately calls "Sabrina vs. everybody." This includes an amusing, brief appearance by Saw's Leigh Whannell, who disses Bell's home country, and pays the price, almost before he can finish the sentence.
If the action is good to very good, it's just a little disappointing, in part I suspect because none of the other women are up to Bell's high standard of work. I should stress, they certainly don't suck: however, the gap between her and them is obvious, and a longer climax, pitting Sabrina against guards closer to her skill-set would have been welcome. The fights are also much of a muchness in terms of style: while the tournament cliché often has different martial-arts forms battling for dominance, the cliché makes sense, as it allows for variety. Here, not so much, and the uniform look of white vest and sweat-pants worn by all competitors also tends to leave them merging in to each other as you look back. That said, they're brutal to the max, Waller keeping the camera in very tight to enhance this aspect. There's one moment, involving a face being repeatedly introduced to the wall, which reminded me of The Raid, and any comparison to the best action film of the last decade is a good thing. However, it's perhaps telling that I couldn't tell you without checking, which two competitors were fighting at the time.

On the other hand, the acting was certainly much better than in the male versions of the storyline mentioned earlier. You've seen Jones before, but probably under make-up, e.g. as Abe Sapien in the Hellboy films, and he chews the scenery at just the right level of intensity here for an insane villain, with Fenn not far behind, and as much fun to watch. [I was somewhat reminded of the antagonist in ferocious French horror film Martyrs: both have their own, vastly twisted agenda, and don't give a damn who gets hurt as a result] I already mentioned Marshall, but it's Bell who gets the most screen time, and the most difficult role, having to provide the film with an emotional heart while smashing heads, and not having much dialogue to speak of. Instead, it's mostly a physical performance – which may work to Bell's advantage. Regardless, I'd say it succeeds, particularly on a visceral level: if you don't cheer when Sabrina charges out of the cell, on her way to the long-awaited, no-holds barred confrontation with Phoebe, you're far more phlegmatic than I.
The makers have said they weren't going for any deep philosophical or moral meaning, and just wanted a female take on a male genre. Inevitably, it's going to be treated as more by a lot of people, and I suspect it'll end up being a cinematic Rorschach test, where people will see whatever they want to see. Looking for feminism? You'll find it. Expecting exploitation? It's there. However, I'm happy to take the end result purely at face value, and considering the budget was below a million dollars, can only conclude that – much like Bell herself – it punches well above its weight. There will be bigger action heroine films this year, certainly. Will there be any better ones? We'll have to wait and see, since this has set the bar at a decent height, particularly for early January.
Dir: Josh C. Waller
Star: Zoe Bell, Doug Jones, Rebecca Marshall, Sherilyn Fenn