"Some women will stop at nothing to have a baby. Whether it's theirs or not."

The 'final girl' is a well-worn concept in horror: the last survivor, typically the "good" girl, finally fights back against the assailant in the movie's climax. It is isn't normally enough to merit inclusion here, since it's usually a relatively minor aspect of the film. Here, however, not only is it just about the entire film, the main theme – motherhood and the instincts it arouses – is entirely feminine. Aliens, and Ripley's surrogate parenting of Newt, would be another example. And it's also a rarity in the horror genre for both protagonist and antagonist to be female, but the threat here certainly deserves to be up there with Freddy, Michael, Jason and their cousins.
The action here does take place on a much smaller-scale, with the vast majority occurring in a semi-remote house. Sarah (Paradis – her older sister is Johnny Depp's other half) is left alone on Christmas Eve, her husband having been killed a few months previously in a car accident. She's about to give birth, but is more depressed by her current situation than delighted. There's a knock on the door from a mysterious woman (Dalle); Sarah, suspicious, does not let her in, but it seems the woman knows Sarah and her history. The police are called but find no trace and leave. Later that night, the woman returns, and it's soon clear she will go to – bold, underline please – any lengths to take Sarah's baby.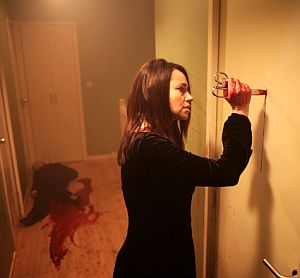 Let me be perfectly clear: this is hardcore horror of the most unrelenting sort, completely unsuitable for those of a nervous disposition, and particularly pregnant women. In the 1980's, Dalle was a sexpot, for her role in Betty Blue, but you can flush all memory of that down the toilet: here, she has a feral, near-demonic intensity, and god help anyone who is unfortunate enough to get in her way. Particularly the men, who are disposed of with complete dispassion and brutality; as the film goes on, her relationship with Sarah becomes complex, and more a case of, "I'm taking your baby, and we can do this the hard way or… Well, really, that's all there is. Sorry." Friends, family, even an entire patrol of cops – no-one can help Sarah. She's completely on her own, and her fate is entirely in her own hands.
Somewhat inspired by the 2006 case of Tiffany Hall, who removed a foetus from her friend's womb with scissors, the film escalates from a quiet opening, through tension, before exploding in a literal tidal-wave of gore, as the protagonist and antagonist battle each other. My sole complaint is a couple of incidents in the final act that seem to stretch belief, e.g. a character conveniently rising from the dead for another assault, though it's a common complaint in this area. Otherwise, even though we are jaded fans of both genres covered here, this one will stick with us for a long time, and cements France's place at the forefront of horror.
Dir: Julien Maury and Alexandre Bustillo
Star: Alysson Paradis, Béatrice Dalle