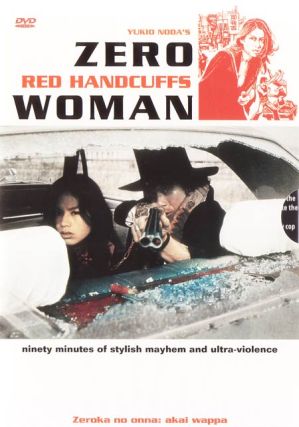 When the series started in 1974, it originally appeared to be trying to take on the Female Convict Scorpion series at its own game – both were inspired by Toru Shinohara manga series. However, going by the fact it took more than two decades for a second entry in the series, I can only presume the commercial returns weren't anywhere near as strong. This starts off well, with policewoman Rei (Sugimoto) luring in, and then blowing away, the man responsible for torturing and killing another woman. Turns out the perpetrator was a diplomat and in the resulting scandal, Rie is sent to jail. Her chance at redemption comes when a gang of thugs stumble into the kidnapping of the daughter of a politician (Tamba): to avoid a scandal, Rie is offered a pardon if she infiltrates the kidnappers and kills them all. Initially, all goes to plan, with the first member taken out quickly, but it soon becomes clear the other members are rampaging psychos, and the situation rapidly spirals out of control, to the point where the politician yanks his support and orders the deaths of everyone, in the name of damage limitation – including both his daughter and Rie.
The promising beginning is a bit of a con, as the majority of the film has Rei not doing much more than sitting around, waiting for the gang to destroy itself. Occasionally, she will prod them in a certain direction, but generally, they don't exactly need much encouragement and she's mostly passive rather than the vengeful fury for which I hoped. Now, there's certainly plenty of tbe "fury" bit, with some of the most enthusiastic arterial spray I've seen for its time, and some of the torture scenes are close to unwatchably brutal (the cops are every bit as bad as, and perhaps worse than, the criminals in this area). However, Rei just isn't as interesting a character as Sasori, despite sharing the same terse approach; she does fit in pretty well, to a cast of characters who all seem to possess few human or sympathetic qualities.
Things escalate particularly nicely at the end, when the police discard the "softly, softly" approach [which in seventies Japan, appears to mean "not actually killing people yourself"] and go after the gang, who have moved on to take a bunch of other hostages. This leads to a chase and shootout at an abandoned US military base, which probably also meant something significant in 70's Japan, going by the occasional hints of anti-American sentiment. Noda has a broad stylistic palette, throwing montages, hand-held camera and freeze-frames into the mix, the last-named perhaps trying to evoke the manga spirit. It doesn't come off as particularly memorable however, and if the lack of its own artistic style is more than made up for in copious sleaze, you can certainly see why no-one dared (or bothered?) to follow in its footsteps for more than 20 years.
Dir: Yukio Noda
Star: Miki Sugimoto, Eiji Go, Tetsuro Tamba, Hideo Murota