"Girls with gauntlets."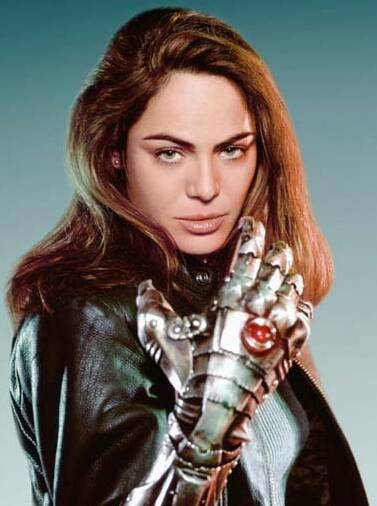 Much as in the first season, the second series of Witchblade brushed against greatness. Unlike the first, where you can point at the final episode as the key weakness, this time round it is a chronic rather than acute malaise that prevents it from getting the seal of approval. When it was great, it was fabulous – it just seemed that for every full, satisfying episode, there was a lame clunker to compensate. Particularly at the start of the season, there seemed to be precious little imagination on view.
Before we get to that, however, there was the little matter of heading forwards once again, Sara having effectively wished the entire first season into a plot-hole. To the writers' credit, everything went forward in a completely different direction, from the moment Sara and her partner opted not to go into the theatre where, in the first series, everything had begun. Things diverged so rapidly from here that by the end of the double-length first episode, Kenneth Irons was dead, though as previously seen, this is only a minor inconvenience in the Witchblade universe. As Gabriel says in the finale, "Death is a revolving door." I profess myself quite satisfied with how this was handled – it was the next few episodes which were distinctly ho-hum, with little in the way of memorable moments. Oh, look: there's a new drug in town; Nottingham hires assassins to kill Sara; multiple personalities. And I had to cheat and look up synopses elsewhere to glean this much information, since they were notable largely for the lack of impression they made on me. I do recall being immensely irritated by the strobe-lit fight scenes, however, the sort of thing you do when you're trying to hide ineptness.
Things probably reached their nadir in Nailed, in which a stereotypical, drooling paedophile kidnapped Danny's niece. The Witchblade, with an impressively convenient sense of dramatic timing, revealed his location just in time for them to rush to the rescue, in what was otherwise little more than a lame rip-off of Cape Fear. Fortunately, I missed this episode when it aired (being off getting married!), and only caught up with it during the marathon. Otherwise, I might well have given up on the show. Which would have been a terrible shame, as things started to perk up thereafter. I always enjoy episodes where external mythos enter the show, and Lagrimas mixed the Wandering Jew fable in beautifully, with its cursed immortal, seeking death at the hands of the Witchblade. Hierophant was a little too Keyser Sose-ish for my tastes, but Veritas probably ranks as my favourite episode to date. Oddly, the legend it utilised, while much more recent, didn't seem out of place in the slightest. We were largely one step ahead of the story, but only in an "Wouldn't it be cool if…?" way, and I suspect the Powers That Be will rear their ugly heads again in season three.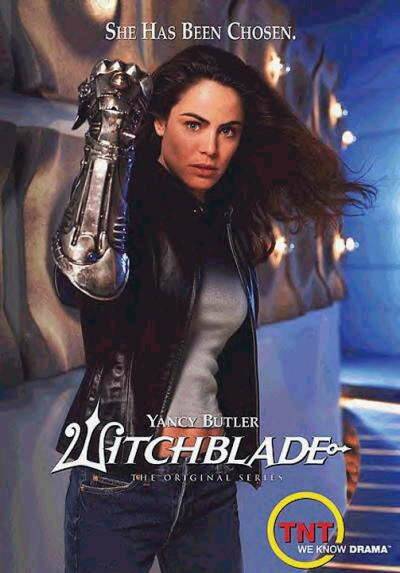 The finale, Ubique, also has to rate highly, for sheer perversity at the very least – Nottingham reaches new levels of creepiness in his final scenes with Lucrezia. Throw in a kicking soundtrack (Lords of Acid!), some spectacular deaths, and we'll forgive a central plot device teetering curiously close to the main premise of feardotcom, which opened in cinemas the very same week. Among the interesting themes on view are the way both Pezzini and Nottingham both struggle to come to terms with the loss of their fathers, albeit temporarily in the latter's case. This may be linked to one of the unresolved issues carried forward; who is the guy with wavy grey hair who always seems to be lurking round Sara? Indeed, the whole Nottingham/Pezzini relationship had perhaps more depth than any other in the show; veering between love, hate and obsession, with never a dull moment.
Season 3 looked like it might have some stiff competition for Sara's favours, particularly with Concobar (rather less irritating this time round) lurking in a coma. Add in Gabriel's little kiss in the finale, and it seemed like time for all applicants to take a number and form an orderly queue. On the other hand, couldn't see why they keep both Jake and Danny in the show, as their roles overlapped far too much. A permanent, irrevocable death would have made people sit up and take notice – my vote in this department goes to Jake… Despite the second season, overall, rating the same as the first, I reached the end of this one with more optimism in Witchblade's future. However, TNT didn't share this confidence, in part perhaps because of Yancy's inability to keep out of bars, and the series wasn't renewed. This may have been wise – on January 3rd, 2003, Butler was arrested after allegedly punching her father, punching and attempting to bite her uncle, and head-butting a police officer. For the moment, Sara Pezzini is in limbo, but really, a better fate is deserved for one of the more innovative series to hit the airwaves in the past couple of years.
Star: Yancy Butler, David Chokachi, Eric Etebari,  Will Yun Lee