"The Angela Strikes Back"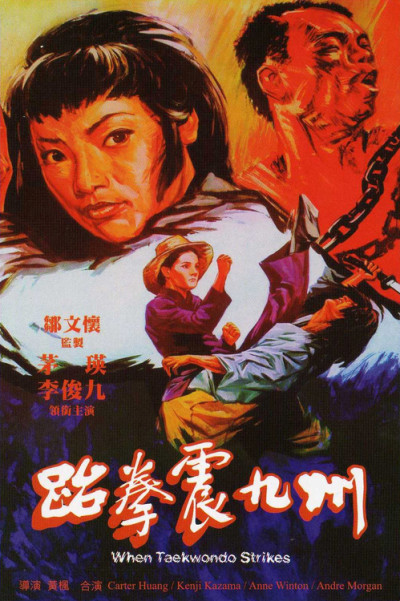 There's more than a hint of Hapkido here, with many of the same cast, and more less the same thirties setting, with Korea again laboring under the yoke of Japanese occupation, etc. Things kick off when Jin (Wong) seeks sanctuary from the occupying forces in a local Catholic church. The Japanese soldiers rush in, but get demolished by Uncle Li (Rhee), a rebel topping their wanted list who has been hiding out as the priest's gardener. Jin and Li depart, along with the priest's niece (Winton), but the priest himself remains, and is captured and tortured for information about Li's whereabouts. Wang Lin Ching (Mao) is drawn in when Li asks her to check on the cleric, causing her to become targeted by the Japanese too. An attempt to rescue the priest goes wrong, ending with Li being captured, and the others having to flee Korea for mainland China. However, that may not be far enough, and when the Japanese figure out where they are, they us Li as bait to lure Wang and the others out of hiding.
Despite being considered the father of American Tae Kwon Do, and a good friend of Bruce Lee, this was Rhee's only released film (rumors of another have been heard). Seems a bit of a shame, as he makes his presence felt here, particularly toward the end. For action heroine fans, the focus will naturally be on Mao, and we'll get to her shortly. However, we shouldn't forget Winton, also in her only film role, who makes an immediate impression as an martial arts trained nun  Going by her clothing, anyway; the film is kinda loose on Catholic ritual. Man, The Sound of Music would have been so much cooler, if Julie Andrews had only known kung-fu…
As for Mao, she has a couple of absolutely stellar fight scenes, including a church brawl [after the soldiers realize she isn't Catholic, because she didn't cross herself on entering!], a battle in a forest, and the final fight. However, in terms of her action, things perhaps peak when she returns to her family restaurant to find a long-haired Sammo Hung, playing a Japanese henchman, roughing up her mother, along with his goons. The last is embedded below – it should start at the correct time, but if not, 39:20 is where you want to be. I just love the way she casually flicks her pigtail round the back just before things kick off, as if to say, "I am serious Angela Mao. This is serious business."
The one thing that stops the film from getting a seal of approval is a disappointing slump in the middle, after the (fairly lame) effort to rescue the priest. Nothing much happens for what feels like a good half-hour, and that's a shame, since the action elsewhere is both copious and often excellent. Many fights are virtually the equal of any Bruce Lee film, not least because there are half a dozen excellent martial artists involved here, rather than Bruce being far and away the best. This adds a real sense of balance to proceedings, and if you're looking for an introduction to the movies of Angela Mao, this is certainly recommended.
Dir: Huang Feng
Star: Angela Mao, Jhoon Rhee, Carter Wong, Anne Winton