"Carry out land reform!" and other popular Marxist refrains…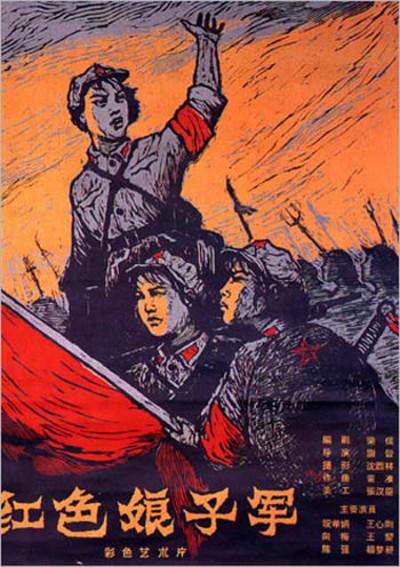 This takes place in 1930, when the Communist revolution was really just getting under way, and Hainan, now the very southernmost part of China, was a hotbed of subversive activity. Wu Qionghua (Zhu) is a virtual slave, who had made frequent attempts to run away from her master, Nan Batian, but has always been caught. She is rescued by a kindly merchant, Hong Changqing (Wang) who is visiting her master and takes Qionghua into his service – as soon as they leave, he frees her, because it turns out he is an undercover operative for the Communists. Qionghua, filled with new-found political aspirations, heads for a nearby village where the Red Army is forming its first women's army, linking up on the way with another member of the oppressed proletariat, Fu Honglian (Xiang). There, she convinces the commander of her earnest intentions and gets to join. However, her lust for personal revenge on Nan clouds her judgment as a soldier, and potentially puts her life at risk She will need to suppress her own desires – both for vengeance and for Hong – in the interests of the greater good and the Communist uprising.
A little reminiscent of The Forty-First, the big difference is that it built the characters first, and worked any political messages around them, rather than turning the actors into machines for spouting revolutionary polemic. Here, there are times when what comes out of Qionghua's mouth appears to be straight out of the Little Red Book, which is quite off-putting. It could be down to poor translation in the subs, but considering she is supposed to be a peasant girl, and presumably uneducated, lines such as "Could you tell me why Secretary Changqing and our company commander are more knowledgeable and farsighted? Because they are communists?" are not exactly convincing. Nor are "spontaneous" chants of "Down with feudal rule! Carry out land reform! Overturn the feudal system!" Maybe audiences in sixties China needed to be whacked over the head; I've always found propaganda to be most effective when its subtle, and this isn't. I occasionally expected scenes to finish with a Starship Troopers-esque caption: "Do you want to know more?"
But say what you like about communism – and "It's a political system which is okay in theory, but a miserable failure in practice" would be close to my own view there – it has done a lot more than capitalism in embracing the GWG as part of culture. We already documented the Soviet approach in WW2, and here, the women's army is not regarded as second-class soldiers in any way, and are portrayed the equals of their male counterparts, which is certainly laudable. Shame the battles themselves are a bit crap, with the running-dog reactionary lackeys hardly putting up a fight, save for one decent sequence where Wu's platoon has to hold off an advancing surge by the opposition, while sustaining brutal losses. The same novel subsequently became a ballet: that might be slightly less heavy-handed with the propaganda, though I wouldn't guarantee it!
Dir: Xie Jin
Star: Zhu Xijuan, Wang Xingang, Xiang Mei, Jin Naihua