"Leather, whips and lace – gotta love the type."
In 1817, a young Spanish aristocrat, Tessa Alvarado (Santiago), returns to Spanish California after the death of her father and finds her home in ruins, her father's manservant reduced to stealing. The town where she was born is run by militaristic governor Colonel Luis Ramirez Montoya (Pelka), who abuses his power, resulting in the miscarriage of justice and the poor living conditions of his subjects. Upset about the state of her birthplace and the murder of her father, Tessa's path is revealed to her in a mysterious dream where her father comes to her and talks of his murder, his hidden gold, and of his "Avenging Angel". She will take up arms to protect the people from the town's governor and to avenge her father's death. Tessa will do this in disguise behind a mask, becoming that "Avenging Angel", The Queen of Swords.
Synopsis shamelessly cribbed from Wikipedia, but why re-invent the wheel? That seems to have been the approach taken by the makers here anyway, for their show which ran a single season from October 2000 through June 2001. The obvious, if unacknowledged, inspiration here is Zorro, in which another member of Spanish nobility, adopts a secret identity in order to defend the downtrodden populace from corrupt officials, etc. etc. Indeed, so close were the similarities that Sony sued Fireworks Entertainment, the producers of Queen of Swords, asserting that there was a breach of their rights. The resulting decision was murky: the court initially ruled the character was in the public domain, but later vacated that decision, and the suit was settled out of court, but it's certainly possible the legal wrangling contributed to the decision to pull the plug on the show, after only eight episodes had aired.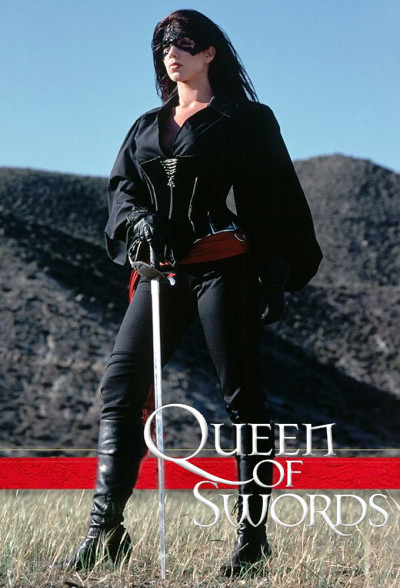 Certainly, in terms of quality, it's by no means a disaster, and I enjoyed this more than other, recent shows which were yanked as fast, e.g. Killer Women or the Charlie's Angels reboot. Of course, the central premise requires quite some suspension of disbelief: the concept that putting a little lacy mask on somehow transforms Alvarado and renders her completely unrecognizable by anyone, is nonsense. It's not as if the town is full of similar-looking women, and she doesn't even bother to change her voice. Still, if Superman can put on a pair of glasses to the same end, I guess we shouldn't pick on Queen of Swords. What does work, is the interesting range of characters. Montoya is a bastard, always out for himself, but he's quite a clever bastard with it, aided by captain of the guard Marcus Grisham (Lemke). On Santiago's side, she assisted by her gypsy maid – who, like all gypsies, has psychic powers (I think it's genetic) – and also by the local doctor, Robert Helm (Wingfield), who also has secrets of his own. These are all well-rounded characters whose interaction is fun to watch.
The action work is a bit of a mixed bag. Santiago was found at an open casting call, and underwent two months of training under swordmaster Anthony De Longis, who also plays Tessa's fencing tutor in the opening episode. However, portraying the character required cobbling together a patchwork of Santiago with stunt doubles and other replacements, including Natalia Guijarro Brasseur, Roberta Brown, Gaëlle Cohen, Mary Gallien, Mary Jose, and even the occasional male for particularly difficult stunts. Again to quote Wikipedia, this "is exemplified in the Queen's run up the hill away from the soldiers in Death to the Queen. Mary Gallien started the run, Roberta Brown performed the medium shot duel with swords on the hill, Tessie Santiago performed the spoken parts and was in the close-up, and Natalia Brasseur fell off the cliff." The results are hardly seamless, and fall more into the category of competent than anything else, with the occasional moment that either impresses, or is painfully obvious in the doubling.
The shows did have some decent guest stars. Among the most memorable was perhaps Bo Derek, who played retired pirate captain (!)  Mary Rose, who is intent on seeing her son escapes a murder charge. She could, at least, do her own horsework, being quite an accomplished ride. David Carradine also appears, getting to wield a sword some years before doing so in Kill Bill, and Sung-Hi Lee plays another action heroine in a later episode, The Dragon, where she plays a member from a temple of Japanese warrior-priests, whose master (Burt Kwouk – not Japanese either!) is killed, and seeks vengeance on the Queen after being told by Montoya she was behind the attack. Elsa Pataky also has a regular role, playing the wife of a local landowner, who is having an affair with Grisham. Other guests in the series include Simon MacCorkindale and Ralf Moeller. Oddly, given the setting, there's a high percentage of British actors in both the regular and guest cast, led by Pelka who, despite his accent, was actually born in Yorkshire – his exotic name is Polish, rather than Hispanic…
A few random other thoughts: I grew to despise the theme song, which sounds like a low-rent version of something by the Gypsy Kings. But the lack of over-riding romantic entanglement works in the film's favour. While there's a sense Tessa and Dr. Helm have an attraction, unlike certain shows I could mention, the storylines never gets bogged down in this 'shipper drivel. I reached the end with a feeling of sadness that the show never quite did well enough to merit further season. If far from original, and not even the first female version of Zorro [which would be Zorro's Black Whip], it was generally entertaining, with performances that were better than I expected. Even now, the legal status of Zorro remains undecided, and until that is resolved, I doubt anyone will head down the distaff version path again.
Star: Tessie Santiago, Valentine Pelka, Anthony Lemke, Peter Wingfield