"Aliens Assault on Precinct of the Living Seven."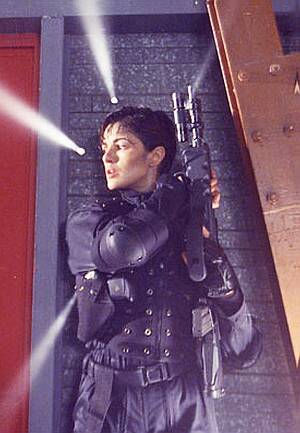 Despite influences all over the place – Assault on Precinct 13, Aliens, Night of the Living Dead, The Magnificent Seven – Siri takes and runs with them very effectively. Laborie (Farès) is a career soldier, tasked with transporting an Albanian gangster to his trial; but the convoy is ambushed, so she and her men hole up in a nearby warehouse on a deserted industrial estate. However, it is being robbed by brothers Santino (Magimel) and Nasser (Naceri), plus their crew – and the attackers have also followed them, intent on rescuing their boss. Can they survive until help arrives?
It's a well-constructed story, with some thought going into the explanations. Part of the thieves' preparation was to black out cellphones in the area, and the film takes place on Bastille Day, so fireworks drown out the gun-battle. The violence is also nicely realistic; when people get shot, they stay hit; fans of the game Counterstrike will particularly enjoy this. But the rest of us should too. Laborie is a serious action heroine, who takes no nonsense as she takes charge, wielding authority and her assault-rifle with equal proficiency. And the tension mounts inexorably, as the faceless enemy close in, cutting off the space to those trapped within.
The ending is arguably a little weak, and there is the occasional dip into cliche – Laborie gazing at a photo of her kid, for example. However, on the whole, this is a fine, well-crafted piece of entertainment, which beats up most similar attempts to come out of Hollywood lately. Siri has since headed that way (he directed Bruce Willis in Hostage), and one hopes the studio system does not dilute his undeniable eye for action. Give him Resident Evil 3, with Farès alongside Jovovich, and we are so there. :-)
Dir: Florent Emilio Siri
Stars: Nadia Farès, Benoît Magimel, Samy Naceri, Anisia Uzeyman