"Loss + mother love = vengeance."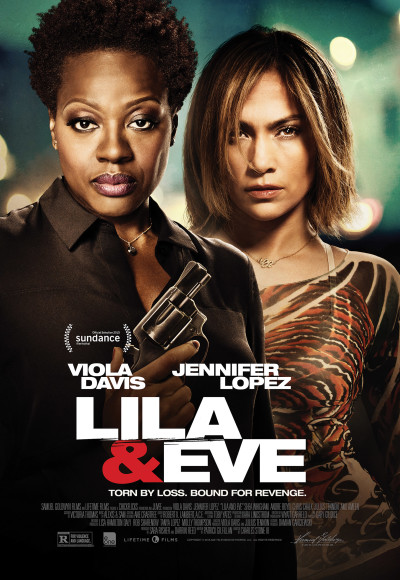 Driven by a strong and intense performance from Davis, as Lila, a mother who has lost her son to a drive-by shooting in Atlanta, this offers a more thoughtful take on the "vigilante vengeance" genre. Feeling abandoned by the authorities, and not impressed with the forgiving approach of a support group, she finds companionship in another grieving parent there who feels the same way. Eve (Lopez) urges Lila to take action against those responsible, and together, they work their way up the chain of pushers and street-dealers, to find the man behind it all. However, their actions bring them unwanted attention, both from the detective investigating the resulting murders (Whigham) and the boss at the top of the ladder. It's entirely possible that Lila's thirst for revenge could cost her everything, not least her other son, Justin (Caldwell).
It's a little hard to discuss this, since there's one aspect which talking about would require a major spoiler, though it's something I figured out early on: the clues are there, if you look for them. While important, it's not something on which the film stands or falls, however, and I don't think figuring it out early hurt my appreciation of this. I was a little concerned early that this was going to be sappy and sentimental, not least because of the presence of Lifetime Films as one of the producers. However, it isn't that way at all: instead, this is a gritty and entirely credible look at deep personal tragedy, and the reaction to it, even if the final act topples over the edge into implausibility. Davis is key, and is particularly impressive: you can see the pain in her eyes, and how that motivates her to engage in violence which, in some ways, is arguably as senseless as the slaying of her son.
However, the other aspects are mostly solid as well. Lopez provides feisty back-up, egging Lila on whenever her drive falters, and even the cops are portrayed as credible characters, who behave intelligently, as far as their limitations allow them. This makes for a sharp contrast to some similar films I've seen, most recently Eye for an Eye, which were little more than a hymn to the joys of vigilante action. Here, you get the negative aspects as well, such as when the mother of one of Lila's victims turns up to the support group, only to receive a rather mixed reaction. This moral muddying of the water shifts the tone into trickier waters, and as mentioned, I'm not sure Stone negotiates through these successfully to the end credits. However, Davis's performance is damn near impeccable, and is mesmerizing throughout. If there were any fairness in Hollywood, this would be among the Oscar nominated performances for 2015; if I'm not holding my breath there, you still won't see much better this year.
Dir: Charles Stone III
Star: Viola Davis, Jennifer Lopez, Ron Caldwell, Shea Whigham