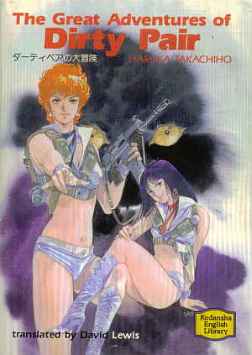 While in English, this came out in Japan, since it was part of a series of translations of popular works, intended as an aid for people learning the language. As a result, the book comes with translation notes at the back explaining, for example, what the phrase "We're encased in a transparent sheathing of ultrathin reinforced polymer" means. Though I note the word "lesbian" is, apparently, deemed unworthy of further translation. It's a swift read; discounting the notes, barely 125 pages long, and they're not large pages either – a lunch-hour might suffice, if your boss gave you a few minutes grace.
The plot is somewhat Project Eden-like; they head to a planet to investigate what initially seems to be an act of industrial espionage, only to uncover a far more lethal threat. It's a thin work, yet still manages to divert too much from the plot: I mean, do we really need to know their vital statistics? The result is eminently forgettable, despite a couple of cool moments, such as when the pair's clairvoyant activities, the main reason for their 3WA recruitment, are demonstrated. "Something blazed in the back of my eye. It was a flash of pure white light. Then a dizzying feeling of walking on air, followed by a tingling ecstacy. Everything went white. An image appeared. It appeared like a picture painted on a immaculate canvas. It went out. In a twinkling, color returned to my consciousness."
The 'Bloody Card' – perhaps more famous in the US comics than the anime – also makes an appearance, and it's also interesting to note that the name of the villainous group behind operations is Lucifer, the same as was used in Dirty Pair Flash: Mission 1. But it's just too disposable and light to be worthy of significant note. Though the civilian death toll as a result of their actions in this novel – as noted previously, largely due to some terribly bad luck; here, involving a crashing space-ship and a major city – comes in at a brisk 1,264,393. Well done!
Author: Haruka Takachiho, translated by David Lewis
Publisher: Kodansha English Library