"In serious need of more tell, don't show"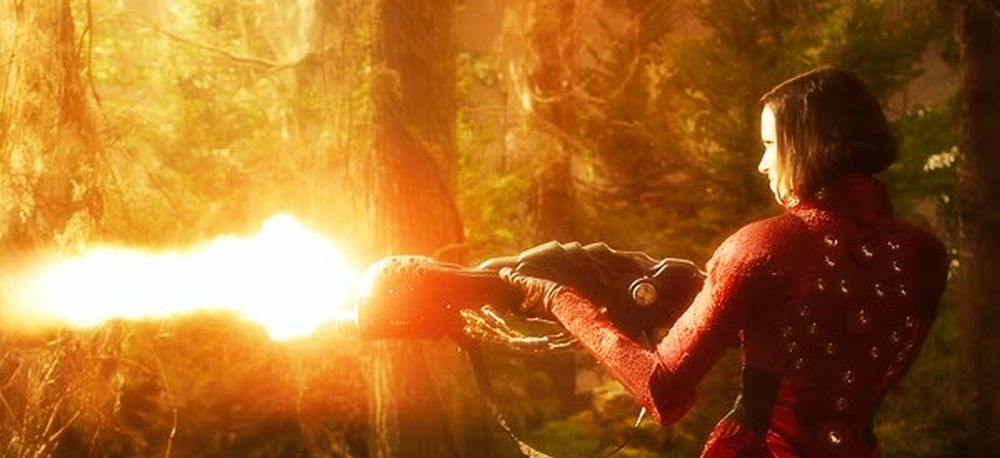 Oshii is best known for his anime work, but this isn't his first foray into live-action; we already reviewed Assault Girls, and this has much the same strengths and, unfortunately, weaknesses. It looks wonderful, but the script here is virtually impenetrable, leaving the viewer on the outside, looking in. I had to watch this twice, because an hour into the first time, I realized I had absolutely not been paying the film any attention for at least 15 minutes. The setting is the planet Annwn, where a long, ongoing war has reduced the original eight tribes to Columba, who rule the air, versus the land-based Brigga, who also have the support of the few remaining members of the Kumtak tribe, who specialize in information technology. When an Brigga escape pod is retrieved, it contains Kumtak elder Wydd (Henriksen) and a druid (Howell), which is a shock, because druids, who provide a direct line of communication to the gods, are supposedly extinct. Wydd offers the druid's potential power to the Columba in exchange for his tribe's freedom, but the Brigga mount an attack and re-capture them. Pilot Khara (St-Pierre) leaves in hot pursuit, but is forced to crash-land and team up with Brigga warrior Skellig (Durand, a ringer for Benicio Del Toro), as Wydd's agenda becomes clear.
Well, somewhat clear. Like many of the other plot elements, it's never quite clarified to the point you'd be willing to swear to them. For example, the druid's power is shown when plugged into the central computer, resulting in… a swirling, red-tinged CGI sphere. What is it? Why should we care? Oshii is untroubled by such concerns, being more concerned with creating a universe that, like Sucker Punch, appears almost entirely green-screen. It looks very nice, certainly, but only occasionally provokes anything more than wondering "Is this available in a format suitable for framing?". An early narrated sequence gives you the setting; after that, you're on your own, and the visuals come wrapped in some particularly leaden and indigestible pseudo-philosophical dialogue, that is neither as deep nor as interesting as Oshii seems to think.
Once the foursome reach their heavily wooded destination, things perk up somewhat, with a nicely-staged battle against a set of robotic guardians that is likely the film's high-point. There are other potentially interesting, yet under-explored aspects, such as the way dead soldiers on both sides are resurrected to continue fighting – Khara is currently on her 23rd incarnation. However, the film ends just as things look about to kick off seriously, in an Attack on Titan kinda way, with far too many plot threads left unresolved. I can only presume this is intended to be the first in a multi-episode saga, since on its own, it feels severely incomplete. If I can't argue with Oshii's amazing eye for visuals, he really needs to ensure his scripts are  better developed.
Dir: Mamoru Oshii
Star: Melanie St-Pierre, Lance Henriksen, Kevin Durand, Summer H. Howell