"Brave, but too much heart?"
I was immensely stoked for Brave on a number of levels. First, Pixar kicks ass. With the exception of the underwhelming Cars and its pointless sequel, the quality of their work speaks for itself: Monsters, Inc is close to the finest animated movie of all time. Secondly, genuine action heroine films for the whole family are rare, to the point that they can probably be counted on the fingers of one hand over the past 25 years. Thirdly, it's Scotland. Y'know, where I'm from. It's the bit at the top of England. I feel I should mention this, because Pixar had originally tabbed Reese Witherspoon to voice the teenage, Scottish heroine, Merida. Fortunately, scheduling prevented this, and Pixar ended up with an all-Scottish lead cast.
I also note the somewhat troubled production: despite two names getting directorial credit, this wasn't a co-direction. Mark Andrews replacing Brenda Chapman as a result of what Chapman called "creative differences." This was certainly an embarrassment to Pixar, who had long been criticized for their very male-dominated output, and had made a big fuss about Brave, not just featuring a female heroine, but also written and directed by a woman. The problem, according to Andrews, was that the story was unfocused. He said, "Whose story it was – whether it was Merida or her mom's story or Merida choosing which parent she was going to be more like – these things weren't working." Chapman was unimpressed, telling the NY Times, "To have it taken away and given to someone else, and a man at that, was truly distressing on so many levels."
Does this impact the final movie? It's hard to see how it couldn't, either through a compromise of the original vision, or as a result of the realization, mid-way through production, that it wasn't working. Not that it's alone – many Pixar movies have had bumpy journeys to the screen. But in this case, the end result was greeted with muted box-office success. It seems odd to describe a movie that grossed $235 million as a disappointment, but Brave showed a lot less "legs" than most Pixar films. Almost all have gathered total US box-office receipts four times or better than their opening "wide" weekend. Brave's multiplier, of 3.56, is ahead of only the woeful Cars 2 (2.89) in studio history.
Not to say it's bad, because it certainly isn't. Pixar have an absolute and complete handle on the technical aspects: even in 2D, this is the best-animated (if not necessarily the "best animated") film of 2012. The landscapes are lush to the point of seeming photographic, the characters are richly-detailed, down to the last red-haired ringlet on Merida's head, and in motion, you remember why Pixar is #1. And there are plenty of moments where everything comes together. Witness the sequence below, depicting a contest between three suitors to win the hand of Merica. It is filled with 100% pure awesome, climaxing with the heroine's declaration, "I am Merida, and I'll be shooting for my own hand," before she literally bursts out of the confines of princessly expectations.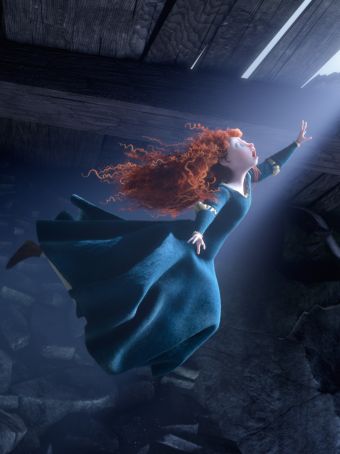 The problems are more with plotting – basically, the issue described above by Chapman is still present. The story starts in one direction, looking suitably action-oriented. It's difficult to provide any specifics without giving spoilers – there's a major plot-point not even hinted at in the trailers, which certainly surprised me. But I can see that it abruptly changes direction in the middle, going in a much less satisfactory direction, that seems almost to push Merida into the background of her own story. Even the climax relies less on any innate abilities of our heroine, such as her much-touted archery, or even her temperament, more the fortuitous toppling of a large geological entity [I doubt the film would have sold quite as well had it been named "Lucky"].
This conclusion is set up by the sort of happy compromise that is only deemed acceptable by both sides in fairy stories – anyone who has had a teenage daughter can vouch for this. I also have some qualms about the arranged marriage subplot that drives the first half of the film, which is depicted as little more than a "You're going to do your homework, young lady, whether you like it or not" kind of way, which seems facile and dubious, even for a Disney-produced cartoon. And the introduction of "magic", for the first time in a Pixar film, allows for the sort of convenient story developments that does nothing but weaken the overall structure. It's not even a magical universe, instead, it's more or less a one-shot deal, necessary to the plot.
It does fairly well in avoiding the Scottish clichés: one haggis joke, a random act of indecent exposure, and a soundtrack which oozes wannabe tartan are about it. The lack of any romantic love interest for the heroine is delightfully refreshing, and the lead actors all do a very, very good job in their roles, bringing their characters to life beautifully, to a degree that you can't imagine any other voices coming out of their mouths. [I repeat: Reese Witherspoon?] It's not boring. but fails to engross in the way that the better Pixar movies invariably succeed in doing. I got to the end entertained, but without any real sense of investment in Merida or her fate. Put bluntly: I just didn't care about her, and the film succeeded mostly as a commercial for the Scottish Tourist Board. As a dramatic entity on its own merits, this falls somewhere between Brother Bear and Freaky Friday.
Dir: Mark Andrews + Brenda Chapman
Star (voice): Kelly Macdonald, Emma Thompson, Billy Connolly, Julie Walters