Originally screened: September 1996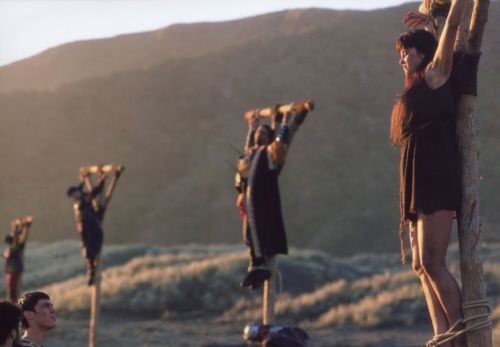 The defining moment of Xena's sophomore season didn't take place in any episode. In fact, it didn't even take place in New Zealand, but thousands of miles away, During a rehearsal for an appearance on The Tonight show with Jay Leno, Lucy Lawless was thrown off a horse after it lost its footing, and broke her pelvis. It's interesting to compare the reaction of the producers to what the Tapert/Raimi team did when the star of Spartacus, Andy Whitfield, was similarly a victim of severe misfortune, more than a decade later. There, they put the show entirely on hold and opted instead to film a prequel without him.
Now, it's not quite identical: Whitfield had cancer, which unfortunately proved fatal, and shooting had not commenced on his second series. Still, one wonders if, in hindsight, it might have been better – for the viewer at least – had the show gone on hiatus, rather than trying to (literally) limp along, with an action star incapable of doing any action for most of its run. Oh, you certainly have to admire the creative way in which everyone worked around it: rewriting an episode here, inserting a body swap there. But having Hudson Leick pretending to be Xena trapped in Callisto's body, is like having Sir Anthony Hopkins play Clarice Sterling inside Hannibal Lecter. While I'm a huge Callisto mark, even I have to say, it completely negates the whole point.
With Lawless's limitations, the show was largely forced back on to the supporting characters post-fall, and that's a bit of a mixed bag. Leick was better at being bad than being good, and Bruce Campbell was reliable as ever. But both Renee O'Connor and Ted Raimi were overexposed, and although they are fine in light comedy, they are just not capable of carrying a show from a dramatic point of view. Still, there were some solid episodes, my personal favorite being a successor to Warrior… Princess, giving Lawless three characters of disparate tone to juggle, and she does so magnificently. Despite general loathing in the fan community, I also enjoyed the Christmas episode, A Solstice Carol, for its loopy inventiveness. I mean… hula-hooping?
There's no doubt that the subtext between Xena and Gabrielle was more explicitly brought out in this series, with several sequences in various episodes that are clearly there purely to tease the fans. However, by the end of the seasons, there seems to have been a certain feeling, among some creators at least, that this had run its course. For instance, writer Chris Manheim said, "We kind of backpedaled a lot on all that [subtext]. I don't know whether it's getting read in no matter what we write. But I think we've said "Ah, we've had our run at that," and just concentrate on other aspects of their relationship. Whatever people read into it they do… You can only do that so much before it gets to be old hat and kind of tired."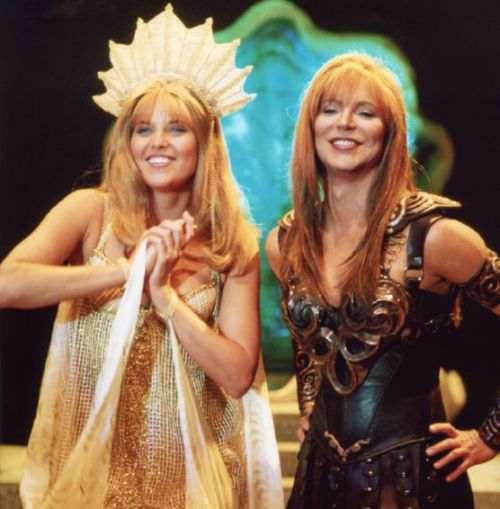 In terms of style and approach, the show covers even more ground here than the first time, from absolutely froth to grim darkness. Xena even gets crucified by Julius Caesar in one episode [confusingly, the actor responsible also crops up later, playing Cupid, complete with fluffy wings…]. I'm sure I'm not the only one who found themselves whistling Always Look on the Bright Side of Life, during the scene shown above right. Another unwitting Python reference is the wretched Here She Comss, Miss Amphipolis, a dreadful tale of drag-queen empowerment, featuring perhaps the least convincing female impersonator since John Cleese put on a dress – as on the left, watch that Adam's apple bob….
Having Xena wander round a beauty pageant, defusing tensions between both competitors and organizers, seems to represent both the most desperate and transparent effort by the makers to save her pelvis, and the nadir of the series thus far. [Though producer Steven Sears said that episode was unaffected, it's hard to believe such a woeful installment was as originally intended, and Manheim said the story "came about partly because…Lucy couldn't fight much."] While the underlying cause was unfortunate and certainly outside the makers' control, their reaction seemed more concerned with contractual obligation than show quality, and it's hard to deny the resulting, significant drop-off in standards which can be seen post-accident in this series.
Season 2: Top 5 episodes
| | | |
| --- | --- | --- |
| # | Jim | IMDB voting |
| 1. | Warrior… Princess… Tramp | A Day In The Life |
| 2. | Return of Callisto | Ten Little Warlords |
| 3. | A Solstice Carol | Return of Callisto |
| 4. | Intimate Strangers | A Necessary Evil |
| 5. | A Necessary Evil | Warrior… Princess… Tramp |