"Barb Wire… In space!"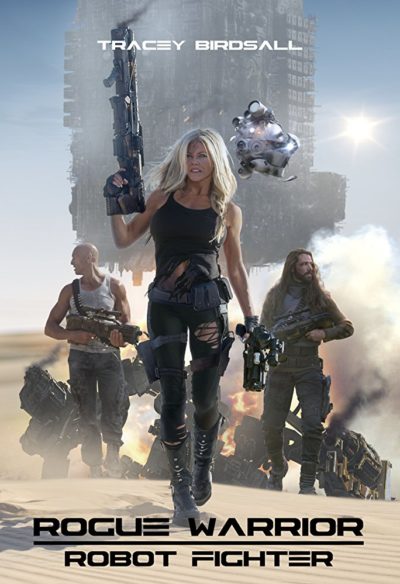 Actually, if only this had been that, it would likely have been a great deal more entertaining. The most obvious point of comparison is lead Birdsall: as the poster on the right shows, she bears more than a passing resemblance to Pamela Anderson. The setting is also dystopian SF, though even more so than in Barb Wire. This takes place after a decade-long apocalypse, which pitted mankind against the artificial intelligences we had created, they having decided we were more a problem than a solution [coughSkynetcough] What remains of the human race, is now struggling to survive in the blasted landscape which remains.
Among them is Sienna (Birdsall), who hears of a planet which contains weapons that can fry the AI circuits, before they can carry out their nefarious plan to download all of humanity's consciousness into the Matrix. She puts together a plucky team of stock cliches – the geek (McGrath), the muscle-bound fighter (Crawford, clearly the low-rent Vin Diesel. Seriously, he used to be on the British version of Gladiators, and his character was literally called "Diesel"), the robot with a line of snappy repartee – and flies off in a spaceship to find the bombs which are humanity's last chance. On the way, they meet up with another robot – this one a pleasure model (Park) – and learn some rather disturbing revelations about Sienna's own past [coughTyrellCorporationcough].
These revelations do, admittedly, explain her stylistic choices – and, cynics might suggest, her approach to acting. In between a fair amount of futuristic chit-chat of varying interest value, there's a lot of running around deserts, pretending to fire laser weapons at robotic enemies that, very obviously, aren't there at all. The physical look of the film isn't actually too bad; the cinematography has a fairly epic scope to it. The main problem from a visual standpoint, is the CGI has been meshed very badly with the real footage: you never escape the knowledge that the former has been pasted on top of the latter. If your script is going to span the galaxy and feature multiple human vs. robot confrontations, you need to be able to deliver. It has been twenty years since Starship Troopers came out, and its CGI still kicks this film's ass from here to Klendathu.
While not entirely devoid of pleasures, the ones to be found here are mostly minor. Birdsall does actually have some screen presence, and certainly looks the part, in a Barbarella-esque kind of way. There's a nice scene at the beginning, where she's trying to escape in a car which has an auto-pilot, and it refuses to leave until it has gone through its entire checklist of new driver items. That kind of self-effacing humour is something the film needed in greater quantities, and would have helped defray the woeful inadequacy of the technical elements, for wit is cheap. Though on the evidence of this, not as cheap as the visual effects software used here. If that isn't good enough to let the audience take your film seriously, you probably shouldn't either.
Dir: Neil Johnson
Star: Tracey Birdsall, Tim McGrath, Daz Crawford, Ashley Park