"Great idea, spoiled by limp execution."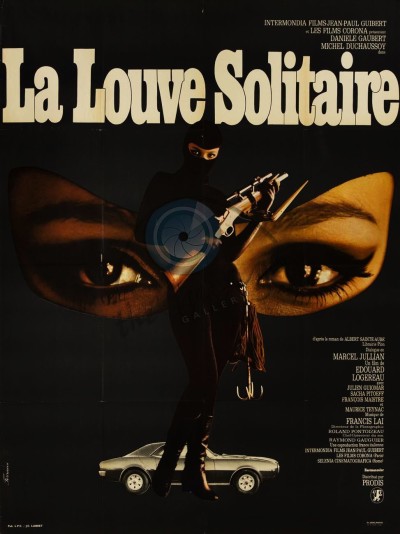 Inspired by the first in a series of books by Albert Sainte-Aube, it's easy to see why this proved a successful concept. Beautiful circus performer Françoise (Gaubert, who managed to marry both a dictator's son and a triple Olympic gold medalist, in Radhamés Trujillo and Jean-Claude Killy respectively) takes her talents to the criminal field, where her tightrope and trapeze skills help in her secret life as a cat-burglar. However, this is derailed when she falls for a sting by government operative Durieux (Guiomar), and the price of her freedom is her assistance with a task set by him.
Diplomat Saratoga (Pitoëff) is using his status as a cover for drug-running, and in order to break the operation open, Durieux needs Françoise to break into Saratoga's office and liberate a 20 kg package of drugs from the safe. To this end, she's given the help of Bruno (Duchaussoy), a gifted lip-reader who'll be able to figure out when the deal is going down, and the two of them begin a stake-out from a nearby apartment. But our heroine's sticky fingers don't stop at the drugs, and when she also liberates a large sum of cash from the safe, and heads for Switzerland, with the cop, the criminal and Bruno, all keen to track her down, each for their own reasons.
Unfortunately, this is one of those films that, despite a brilliant title (not the original one, which translates as much more prosaically, as The Lone Wolf). doesn't live up to its promise. There is an awful lot of sitting around and chatting, filmed in a flat and uninteresting manner, and none of the supporting cast provide any kind of depth or interest. That's a shame, as the action is generally well-handled, not least the heist at the movie's core, which takes place during a thunderous rainstorm, making every move all the more treacherous. I do have to wonder, however, quite where they are hanging the trapeze from which the heroine swings, or why she bothers – the tightrope-walking depicted on multiple occasions previously, would seem a much more sensible and reliable method of getting from High Point A to High Point B!
Regardless, after a wonderful 10 minutes, it's back to sitting around and chatting, and that's largely where the movie remains until the end. More than one review has remarked on the film's possible status as an inspiration for Luc Besson's Nikita. While I can see that possibility, in its tale of a woman coerced into working for the government, who yearns to escape, this would be a case where the student's efforts significantly surpassed those of his master.
Dir: Edouard Logereau
Star: Danièle Gaubert, Michel Duchaussoy, Julien Guiomar, Sacha Pitoëff
a.k.a. La Louve Solitaire