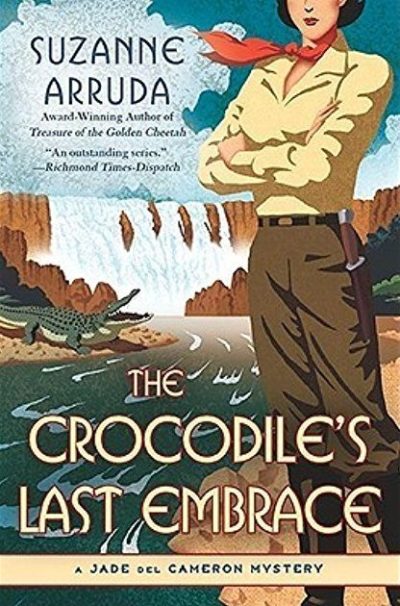 This sixth installment in Arruda's outstanding series has much in common, in terms of style and other characteristics, with the preceding five. We pick up here in February 1921, and our setting is the familiar one of Nairobi and its environs; all or most of the supporting cast we've come to like are here, as well as Jade herself.
Early on in the story, Jade becomes an inadvertent witness to a clandestine body disposal (Inspector Finch once wryly commented that she "attracts corpses," and that's running true to form here!), and other deaths will follow, seeming to be connected with a mysterious purported gold mining operation in the northern reaches of the colony. Intertwined with these events is the menace of a huge, man-eating piebald crocodile, whose depredations along the Athi River are a concern to both the Kikuyu natives and the authorities. More than one concealed identity factors into the situation, and as usual there is a soupcon of traditional African supernatural belief flavoring the mix. The setting continues to be strongly evoked.
It can be said, though, that this is one of the better constructed and more challenging mysteries in the series. Based on my knowledge of how Arruda writes, I was smugly certain that I had identified one of the principal villains as soon as the character was introduced. But I couldn't have been more wrong; and I had no clue about the other one, either. I did see through one concealed identity, but otherwise, Arruda does a masterful job here of hiding her clues in plain sight And the final chapters before the wrap-up are a tour de force of excitement and suspenseful tension as the author maneuvers various characters into position for a climactic confrontation that doesn't disappoint.
More than most entries in the series, too, this one is no running in place operation in terms of an overall story arc; this volume will bring significant changes to Jade's life. Indeed, there are some indications that this (so far) penultimate entry may originally have been intended as the series finale. (All six of the first books were published by Big Publishing, and no more than a year apart. The seventh book was self-published, and only after a five year gap.)
As always, I would recommend reading the series in order, rather than trying to start with this book. It would lose a lot without the built-up familiarity with the characters and their history in relation to each other. But series fans won't be disappointed in any respect!
Author: Suzanne Arruda
Publisher: Berkley, available through Amazon, both for Kindle and as a printed book.
A version of this review previously appeared on Goodreads.