"Several virgins short of a six-pack."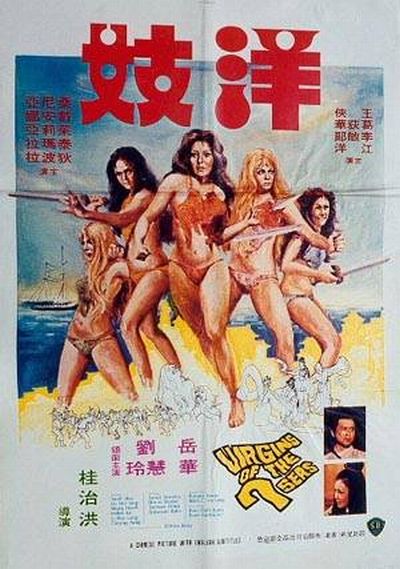 In the 1970's legendary Hong Kong studio Shaw Brothers sought to broaden their market with a series of co-productions. The results included the likes of Legend of the 7 Golden Vampires, from a partnership with Britain's Hammer Studios, plus Cleopatra Jones and the Casino of Gold. But perhaps the most bizarre such product is this, which crosses martial arts with the softcore sex films from the time, the best-known of which is probably Hofbauer's Schulmadchen Report (Schoolgirl Report). The results are… Well, I'd be hard-pushed to call them great cinema, but I would have to confess to being rather more entertained than I expected.
Contrary to one of the alternate titles, Enter the Seven Virgins, there are actually only five women here, and some of those aren't exactly virgins. They are captured by pirates, and brought to their island lair, where buccaneer boss Chao (Hsieh) leers at them and puts them through a training course designed to get them ready to be sold into white slavery. Except, he doesn't know that one of his minions, Ko Mei Me (Liu), is actually working, along with her brother, to take him down, and trains the captives in martial arts, as well as the ancient Chinese art of spitting olive pits at such high-velocity, they can punch a hole through a vase. After copious amounts of gratuitous nudity, the women eventually break free, get recaptured, escape again, and take on Chao and the rest of his henchmen in a battle which makes up for in duration, what it may lack in quality.
Actually, that's a little unfair: considering the Western cast were more used to films with titles such as Campus Pussycats, they perform credibly enough. There's not as much stunt doubling as I expected, and they're clearly giving it all they have, occasionally impressively. Bray stands out in particular – and I mean that literally, since it seems she's taller than most of the men in the cast. Liu, however, clearly has the most experience, and its understandable why she gets given most of the action. In some ways, this can be seen as a primitive ancestor of Category III films such as Naked Killer: while lacking quite the same lurid insanity, and featuring a degree of casual racism that's fairly off-putting [apparently, the sight of Western flesh is enough to send most Chinese men into drooling imbeciles], it's still fun for the undemandingly open-minded. Admittedly, a fondness for Benny Hill may help, and providing you can get past hearing Chinese people dubbed into German, as well as subtitles that may have lost their way a bit in translation. I'm still trying to figure out the meaning of, "It's a bank holiday, it's Mothers' Day in Africa."
Dir: Kuei Chih-Hung + Ernst Hofbauer
Star: Liu Hui-Ling, Wang Hsieh, Sonja Jeannine, Gillian Bray
a.k.a. Virgins of the Seven Seas
a.k.a. Enter the Seven Virgins
a.k.a. Karate, Küsse, blonde Katze [Karate, kisses, blonde cats]