"Bad Girls – the musical."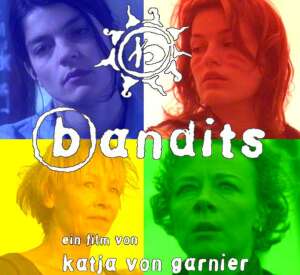 Not the Billy Bob Thornton/Bruce Willis vehicle of the same name, this German film is several years older. Four girls, in the titular prison band, seize the chance to escape when playing at a police function. With freedom comes unexpected fame, thanks to a tape sent to an unscrupulous record company executive. There is plenty of potential for a Natural Born Killers-style hack at the media, manafactured celebrity: the Bandits could go after the exec for exploiting them, he could encourage the cops to shoot the fugitives and increase sales, etc. Von Garnier largely avoids this, in favour of unsuccessful chick-flick emoting, and a slightly surreal approach, like a long-format pop video. Add an irrelevant subplot in which the Bandits take a hostage, play with him for a bit, then dump him, and it's clear the script is embarrassingly weak.
Fortunately the rest of the film holds the script up, aided by Von Garnier's good visual style – albeit one perhaps more appropriate for MTV (one scene is in danger of turning into Fame!). The characters, too, deserve better, a fascinating mix of archetypes: the tough girl, the slightly mad oldie, the ditzy sexpot, etc. They could easily slump into shallow cliche, and it's a credit to the actresses that they don't. The music is a key element, and isn't terrible, though personally, I'm a long way from going out and buying the soundtrack. In the end, all the elements combine with the unstated potential to create an engaging failure. Could have been, should have been, yet there's still enough to make it worth a look.
Dir: Katja von Garnier
Star: Katja Riemann, Jasmin Tabatabai, Nicolette Krebitz, Jutta Hoffman