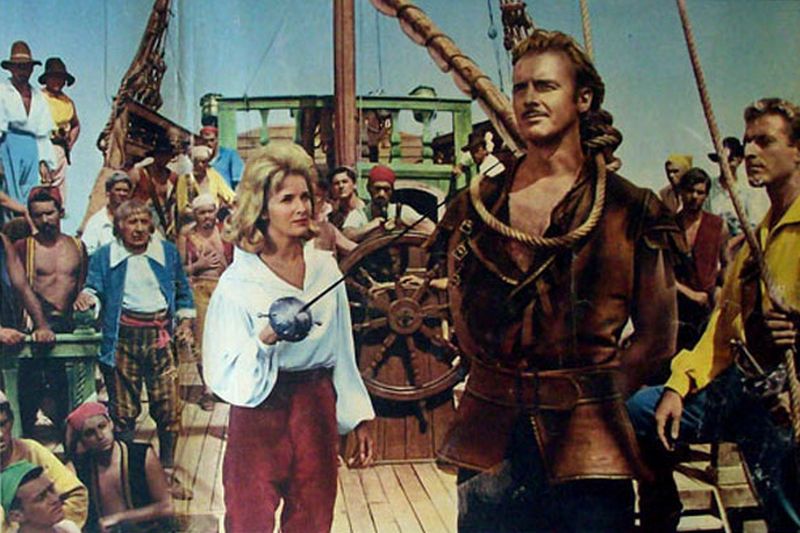 "Graded as a solid sea-plus."
While best known for notorious horror film, Cannibal Ferox, director Lenzi's career covered almost the entire gamut of genres, from spaghetti Westerns through Eurospy films and giallo, to war movies. He also did historical adventure films like this, starring Gastoni as Mary Read, a highwaywoman who takes a spot on a corsair ship run by the unfortunately-named Captain Poof (Barnes). After his demise in a sea-battle, Mary takes over the ship, leading daring raids on any and all who cross her path, on sea or land. Given Poof was working with the approval of the British crown, and supposed to be targeting only its enemies, this provokes a reaction, in the shape of Captain Peter Goodwin (Courtland), who is ordered to take care of Poof, unaware he has been replaced by Mary. However, complicating matters, he also knows her personally, having been locked up in prison with her back in England, and had a brief fling with Read at the time. Can he bring his former love to justice?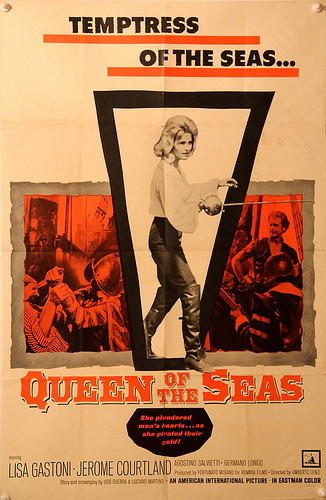 Despite its age – this was made in 1961 – it has stood the test of time fairly well, except for a romantic ending which is both predictable and unfortunate. This turns the heroine into exactly the subservient woman she spent the first 80 minutes not being. Up until then, it plays well ahead of its time, with Read taking no crap from anyone, and proving to be skilled both with a pistol and a sword, as well as her words. [And perhaps a needle, some of her costumes, particularly the red one, being quite spectacular] The production values are generally pretty impressive, especially in the naval sequences; they clearly had a couple of full-scale boats to work with, rather than miniatures. However, its recreation of what is supposedly "17th-century England" leaves a lot to be desired, unless the landscape and costumes of that era were a lot more, ah, Mediterranean than I was aware! I'm also rather hard pushed to swallow Read's intermittent efforts to pass as a man: I guess eyesight was not as sharp back in the day.
Clocking in at a brisk 85 minutes, there's not much chance to pause for breath. This helps paper over holes in the plot, such as the Governor of Florida apparently not bothering to mention to anyone, that his party was raided by a woman pirate. But I like the way Read is portrayed as smart, for example, out-thinking Goodwin and getting him to fire on a supporting ship – she wants to destroy his reputation as much as anything else. However, this makes the final resolution all the more implausible, and I'd far rather have seen her sail off into the sunset, perhaps with Ivan (Longo), the crew-mate who seems to carry a torch for her. I guess this wasn't quite far enough ahead in its thinking.
Dir: Umberto Lenzi
Star: Lisa Gastoni, Jerome Courtland, Walter Barnes, Germano Longo
a.k.a. Queen of the Seas