"The Professionaless."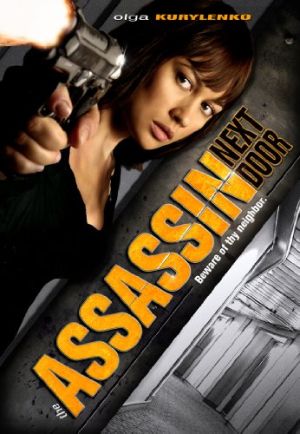 Galia is a sex-slave, kept in captivity in an Israeli brothel. After a failed escape-bid, she is told she has one chance to get back to Russia and be reunited with her daughter: kill an enemy of the man holding her hostage. This she does, but one murder becomes another, with the lure of getting her passport returned and freedom being used to keep her working, just as when she was a prostitute. But at least she has some freedom, and moves into an apartment opposite Elinor (Tayeb), who has problems of her own, in the shape of an abusive husband. The two women bond, both sharing dreams of escaping their violence-plagued lives. However, acting on those dreams is unlikely to be easy, with the men in their lives unlikely just to let them walk.
Kurylenko is likely familiar from her role as a Bond girl in Quantum of Solace, but this is a good deal darker. Indeed, if you're expecting an action-packed treat, this will probably disappoint: except for the final 20 minutes or so, it's far more of a character piece, depicting a pair of damaged souls and the comfort they find in each other's company (which teeters on the edge of Sapphic at one point before, probably wisely, stepping back – not soon enough to avoid Chris's sarcasm entirely, however!). Not all of this works, including a lengthy trip to some kind of religious bath-house which, frankly, seems purely an excuse to see Kurylenko undress. The good news is that the performances are solid enough to make this kitchen-sink drama hold up, and when there is action, Lerner delivers it well, in particular an assassination attempt in a night-club which features some impressively Palma-esque camerawork (and is our video of the month for this update).
The film does leave some troubling questions: how, exactly, did Galia go from being a mother in the Ukraine, albeit one with issues but who does love her daughter, to being locked up in Israel? I know this isn't the focus of the film, yet it would seem to be a crucial issue that needs addressing. However, the flaws are largely overcome by the strength of the acting, and when things kick into high-gear for the final confrontations, it delivers, with a shoot-out on a bus that is an impressive bit of close quarters film-making. Manage your genre expectations with this one, and you won't be disappointed.
Dir: Danny Lerner
Star: Olga Kurylenko, Ninet Tayeb, Zohar Shtrauss, Liron Levo
a.k.a. Kirot