"Never quite sinking to tedium, yet never rising to reach interesting."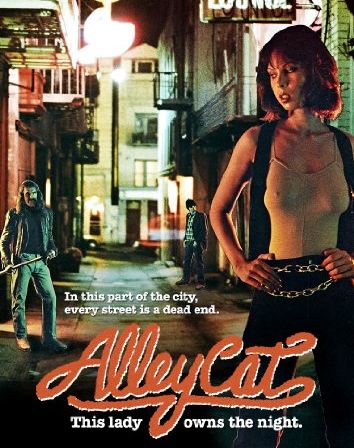 Another review compared this to Savage Streets and Vigilante, from the same era, and I can certainly see the similarities. Black belt Billie Clark (Mani) finds herself hamstrung by the ineffectual legal system, after she stops a rape – and, indeed, ends up going to jail, which is more than can be said for the attackers. With the help of a sympathetic cop (Torti), who's also her boyfriend, she works her way up the chain to the sleazeball at the top, Krug (Wayne), presumably named after the villain of another grindhouse classic, The Last House on the Left. But it's a climb not without its personal cost.
It seemed an almost cursed work, going through a lengthy hiatus mid-shoot, with one director for each chunk, and a third who then fiddled with the movie post-production. The results are about as uneven as you'd expect, but are hampered mostly by the characters involved being bland and forgettable. For someone who has gone through quite a lot, Billie is pretty damn phlegmatic about it all, rarely even bothering to get angry, though does believe cleanliness is next to vengefulness, going by her multiple shower scenes. Mind you, this lack of colour is line with Krug, who is not particularly scary himself, and is hardly a criminal mastermind in charge of an evil empire, his gang consisting of about three guys, with the combined IQ of a Pomeranian.
The supposed martial-arts expertise of the heroine leaves a little to be desired, too. If you're going to make a point out of someone being a black belt, you need to be able to deliver at least convincing fakery in this department, but there are few moments when Mani (or even her obvious stunt-double) reach the necessary level of semi-competence. The fact that she's still capable of beating up the bad guys, simply makes them look even more woeful. They'd have been better off letting her hang on to the gun, instead of using that instead to trigger the whole "women in prison" subthread, which feels like it comes from an entirely different movie, rather than just a different director. I couldn't quite muster the loathing to turn it off: it's the kind of film that just sits there, occupying 90 minutes of your life.
Dir: Victor Ordoñez, Edward Victor, Al Valletta
Star: Karin Mani, Robert Torti, Michael Wayne, Jon Greene