"Hungry like the wolf"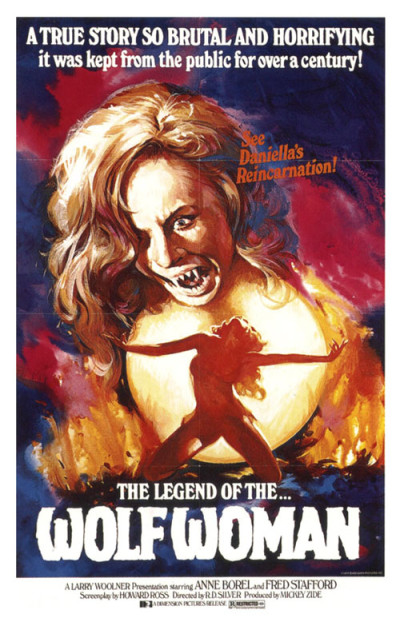 While there have been plenty of female vampires over the year, the number of female werewolves is a lot smaller. There's the wonderful Ginger Snaps (and its not as wonderful sequels), the forgettable Cursed, TV series Bitten, and most infamously of all, Howling II: Your Sister Is a Werewolf.  However, perhaps the closest relative here is a little off to one side: the remake of Cat People, made by Paul Schrader in 1982. It is not dissimilar in tone and approach, both taking a firm, if somewhat hysterical psychosexual tone to proceedings, and Giorgio Moroder's musical score sounds like the synthesized one here. Both have heroines whose transformations are triggered largely by sexual excitement, and who eventually find a man happy to love them for who they are – only for that happiness to be short-lived. Of course, this one being grindhouse, the reason for its abrupt termination is her boyfriend being stabbed to death while trying to stop her from being raped, which triggers a rampage of revenge that justifies its inclusion on this site.
But I'm getting ahead of myself here. It's also a sexual assault which triggers the psychological problems for Daniela Neseri  (Borel). The psychological trauma and Daniela's obsession with a family legend involving an ancestor who supposedly turned into a predatory animal, form a potent combination, and she develops a deeply-held belief that she also changes into a wolf at the full moon. That doesn't appear to be the case, but it still brings tragedy down on the family, when Daniela gets all hot and bothered after seeing her sister (Lassander) making love to her husband. The resulting carnage get her committed to a psychiatric hospital by her aristocratic father (Carraro), only for Daniela to escape after an encounter with the facility's local nymphomaniac. After some more brutal murders, which baffle the local police, she finally meets her soulmate, who works as a stuntman. And this takes us back to where this paragraph came in.
It's pure exploitation cinema, not skimping at all on the nudity, and with a healthy amount of gore as well – what else would you expect from a director who, the same year, gave us Deported Women of the SS Special Section? This isn't quite as sleazy, though certainly is not family viewing, and is well enough made to make for an interesting viewing experience for broad-minded spectators. Borel has a nicely lupine quality about her, and even if the transformation sequences [most notably the opening dream sequence] leaves a bit to be desired, the various elements – the heroine, her family, the cops who gradually realize the connection between the corpses – are tied together with a script that has had more effort put into it than you might think. They truly don't make them like this any more.
Dir: Rino Di Silvestro
Star: Annik Borel, Howard Ross, Dagmar Lassander, Tino Carraro
a.k.a. La lupa Mannara or The Legend of the Wolf Woman