"It's always somebody else's vault…"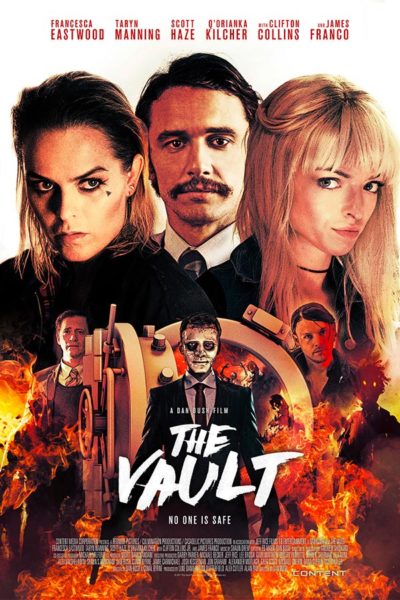 In an effort to pay off gambling debts their brother Michael (Haze) has run up, sisters Leah (Eastwood) and Vee (Manning) plan and execute a bank robbery. While smart in intent – they set up a diversion, and have a cunning escape route prepared – it's not long before the operation goes wrong. The bank's safe does not hold anywhere near the expected haul: fortunately, the assistant manager (Franco) helpfully informs them of an undisclosed vault in the basement holding six million dollars in cash. Sending some of their gang down to the vault, The sisters can only watch on CCTV aghast, as the men are picked off by mysterious figures. For, it turns out, the bank was the site of a robbery in 1982, leading to a hostage situation that ended in multiple deaths. The ghosts of those involved are still in the basement, and opening the vault has apparently released them to take revenge.
I don't think I've seen a film which combined a heist flick with a ghost story before, and it works fairly well. I say "fairly", since it feels uneven. The bank robbery side is meticulously assembled, to the point that it could have been better if that been the movie's sole focus. Eastwood, who made a strong impression in M.F.A., is equally as good here, playing Leah as a cunning strategist who has put a lot of thought into her meticulous plan, only for it to be derailed by factors outside her control. Vee, on the other hand, is a loose cannon, driven by her emotions, and reacting to events rather than managing them. You understand perfectly why the two sisters have led separate lives prior to reuniting to help Michael, though the specific details of the estrangement are never revealed.
It was almost an annoyance when the supernatural elements began to kick in, for those were not handled as effectively. Perhaps it's a case of over-familiarity, with the horror genre being one with which I am particularly well-acquainted; the barely-glimpsed dark figures just didn't do it for me. Some elements reminded me of the dumber excesses of the genre too. For instance, the willingness of the robbers to stumble around an extremely dimly-lit basement, without going, "Hang on… This makes no sense". Or given the spectacular and murderous nature of the original robbery, it stretches belief that these local robbers had apparently never even heard of it. That's a bit like someone from Hollywood not having heard of Charlie Manson.
While never derailing entirely the solid foundation of character and story-line set up in the first half, I couldn't help but feel slightly disappointed by the relative weakness of the second portion. Matters are likely not helped by an unsubtle coda which appears to have strayed in from a far worse film. This adds little if anything to the movie, and isn't the sort of final impression you'd want to leave on an audience. The performances definitely deserved better.
Dir: Dan Bush
Star: Francesca Eastwood, Taryn Manning, Scott Haze, James Franco