"Woman Bites Dog."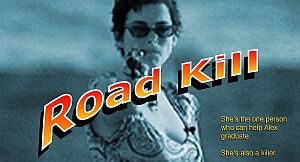 Advertised with the fetching slogan, "Guns don't kill people – she does", this is a film about a film, specifically the graduation documentary being made by Alex (Palladino), who has the good fortune to live opposite hitwoman, Blue (Rubin). She just happens to be going on her final job, and agrees to let him and sound-man Lars (Jayne) come along. On the way, however, things come out of the closet about Blue's background, and Alex finds himself crossing the line between documentarian and instigator.
There are certainly good ideas here, but not enough to keep you interested – Alex is a bland, uninteresting character with little to reveal beyond him almost becoming a pro-baseball player. Blue is better, but the details and mechanism of her job, its origins and her motivations are never made clear either. Lars is actually the most interesting character, a flakey artist with lactose intolerance, who doesn't believe in daylight saving time. Lovely. There's also a loan shark who specialises in student loans and a barman missing a toe. Oh, if only Alex were half as entertaining.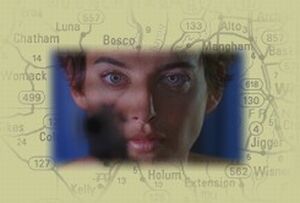 Rubin, given the chance, does a good job, though it's only in the final confrontational scene that we get to see what she is really capable of doing. Until then, the job of assassin seems little more interesting than that of a travelling salesman – she drives cross-country, pop-pop, and drives home again. It's all rather too prosaic, making it hard to see why Alex (or, indeed, the viewer), would want to get so involved. It certainly isn't the glamour or the excitement.
Dir: Matthew Leutwyler
Star: Jennifer Rubin, Erik Palladino, Billy Jayne