"Yes, we will watch and enjoy Zoë Bell in anything."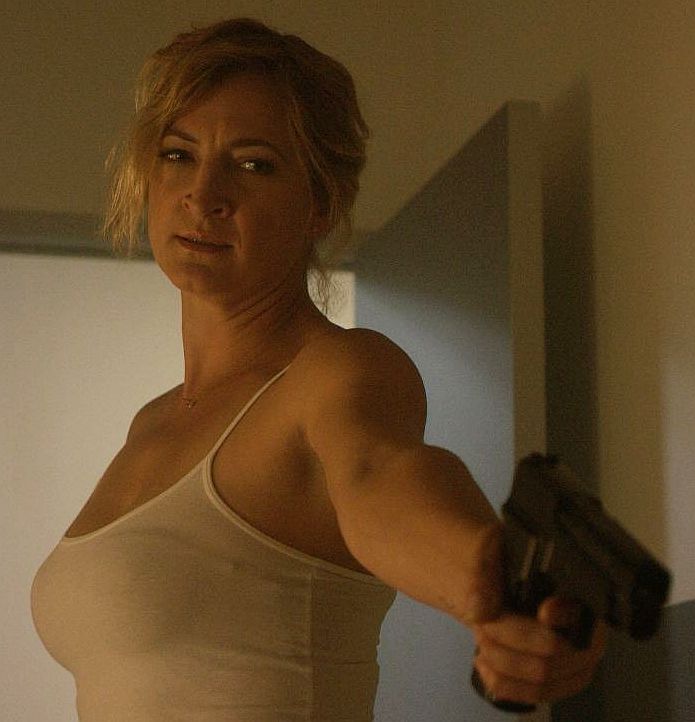 Even as a scientist. Seemed like a bit of a stretch for one of our favourite two-fisted heroines, but here, it turns out she's actually an undercover NSA agent. She is only pretending to be a brainiac, whose cover identity of "Gale" is sent in to infiltrate a mysterious, highly secretive project being run in an underground facility by the equally mysterious "Mr. Landau" (Yoba); he has made a fortune on the stock exchange with an impeccable knowledge of its future movements. Perhaps related, turns out his team have been working on a time-machine, though it requires so much power, it fries the grid over a wide area – not unimportantly, sealing them into the underground base. Their first effort involves sending one of the group, Jim (Huss), ahead an hour; the plan is then for everyone else to "catch up." A few minutes later, he returns, having seen a future where most of the scientists are dead, and the survivors stalked by an unknown assailant. Can their rapidly approaching. lethal fate be changed, or is it immutable?
I'm a sucker for time-travel films, but they need to be rather more rigorous than this one, which feels sloppy both in tone and execution, as if the makers couldn't decide quite what they were trying for. One minute, it's hard sci-fi, the next it's a slasher pic. No, hang on – it's a romance between Gale and one of the scientists! Wait, it's suddenly Zoë Bell kicking ass? Not all of these work equally well, and the shifts between them are rarely less than jarring. There are also plot-holes – not so much with the time-travel aspect, which is handled relatively well, despite a film title that almost appears to be apologizing in advance. Most obviously, how does this underground facility have absolutely no stairs? Or, given the first use of the time-machine triggered a massive black-out, why is it then used repeatedly thereafter without issue?
The cast is equally inconsistent. Bell is, naturally, the best, but Yoba (whom we recognized from Alphas) is okay as an enigma dressed in a dark suit. The rest of the performers, however, appear to have been picked up at random from a local community college; someone needs to check if the director owns a white van or has made large, online purchases of chloroform. For the other actors appear capable of delivering lines or showing emotion – just not both, and certainly not at the same time.  This may be where the film comes closest to the slasher film, in that you care precious little for most of the victims or their fate. I'll admit that we did not see the final twist coming, and like most time-travel films, may merit a second viewing, just to figure out whether or not it still makes sense, in the light of the late reveal. But there are an awful lot of movies further up the list.
Dir: Michael Hurst
Star: Zoë Bell, Malik Yoba, Adam Huss, Bjørn Alexander