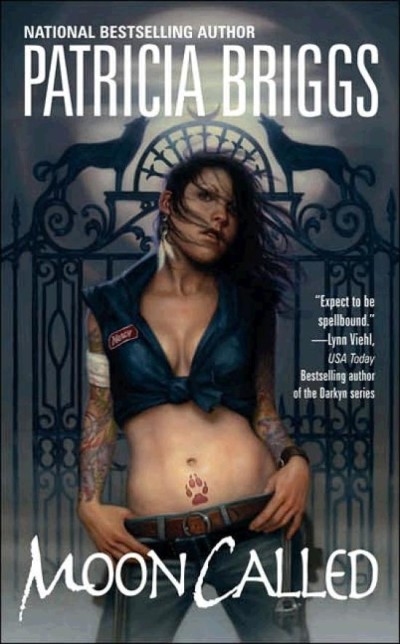 Urban fantasy is a sub-genre I still haven't explored much; but I'd heard a lot of good things about Briggs' Mercy Thompson series. When a generous Goodreads friend offered me her copy of the series opener when she finished reading it, rather than let it gather dust on her shelf, I grabbed it up, and as my rating indicates, I'm glad I did.
Mercy's a were-coyote, living in an alternate U.S. much like ours, except that here the "lesser fae" (brownies, kelpies, etc.) are public knowledge –but other types of supernatural or magic-practicing beings are not. She's is the out-of-wedlock daughter of a Blackfoot Indian shape-shifter, who died in an accident before she was born, and a white mother who had a werewolf relative in her family three generations back. When she found Mercy in coyote form in her crib, she arranged to have her fostered in a small, werewolf-dominated community in the wilds of Montana. Hence, Mercy's quite knowledgeable about werewolves and their ways. Vampires and a gremlin are also parts of her social world, though werewolves play the biggest role.
Both the urban fantasy novels with female protagonists that I read earlier were actually written later than this one, so didn't influence it; the most germinal influence on all three was probably the early Anita Blake series by Laurell K. Hamilton. What they take in common from that influence is the idea of a strong young (or young-appearing) heroine with supernatural traits, in a modern urban setting, interacting with supernatural beings of various types, and capable of handling herself in physical combat situations if she has to. Within that concept, though, there's room for considerable individuality and uniqueness in the way it's developed. As a writer, Briggs is very much her own person, and her heroine and fictional vision aren't clones of any other.
At the core of this novel, of course, and the main ingredient in its appeal, is the well-drawn, round-character figure of Mercy herself. She's a kindhearted person who genuinely cares about others and their needs, and who attracts friendship by being a friend. Her shape-shifting is a part of who she is that she's come to accept; but she still feels isolated because of it, even from her human family (more her problem than theirs) and lonely as the only one of her kind that she knows. Though no plaster saint, she's a practicing Christian. No gun/sword for hire, she's chosen a peaceful, though male-dominated, trade as a auto mechanic, and when our story opens, hasn't been involved in violence before. But she's well aware that she lives in a violent, dangerous world. A purple belt in karate, she's a concealed carry permit holder who owns at least three guns (and makes her own silver bullets), physically strong, smart and possessing an inner core of resolution that's prepared to do what needs doing in a crisis. So she's prepared to face trouble and danger –and that's just as well, because it's about to find her, and people that she's befriended and cares about. (The violence in the book isn't gratuitous or graphic, however.)
The arrival of a strange werewolf teen starts the novel off with a note of mystery, which quickly escalates into a gripping plot built around a shadowy conspiracy, that keeps you guessing right down to the denouement. All of the other major characters, and even most of the secondary ones, are well developed and vivid; the author's prose flows easily, and she incorporates just the right amount of description. While the action isn't non-stop, the action scenes are effective. A strong point of the novel is the development of the werewolf subculture, which feels real enough to suspend disbelief. Briggs' werewolves are more like Anthony Boucher's than like the traditional, moon-crazed psychopaths out to kill anything that moves (I greatly prefer the former, so that's a plus); they're not innately evil just because they're lycanthropes, and they can have some really good personal qualities. (They also take true wolf form, though larger and with more varied coloring, not a man-wolf hybrid form, and have some wolf behavioral characteristics even in their human form.) But they do have a predatory animal nature they need to control, and believable dominance issues.
The Tri-Cities metropolitan area of southeastern Washington state, where Mercy lives, is a real place (population in the 270,000 range), and apparently accurately described; the map that Briggs includes is a helpful feature. Although Mercy had a teenage attraction to one of the werewolf characters (and they still have some feelings for each other), and there's also some attraction between her and another male character, with a kiss at one point, I would not characterize the book as "paranormal romance." That element is a decidedly minor thread in the plotting, and Mercy's feelings aren't focused on one object.
There are a couple of places where the author uses Mercy as a mouthpiece for a comment or sermon pushing "politically correct" sentiments, in a way that comes across as preachy and judgmental. This was irritating, and detracted from my rapport with the character. At one point, Briggs has Mercy holster a revolver she's already put in her pack, and which, as noted a couple of pages later, she doesn't even have a holster for; and she refers to semi-automatic pistols as "automatic" (a common enough mistake –at least she refers to magazines as magazines, not "clips"). But those are relatively nit-picking quibbles. Briggs has made a worthwhile contribution to the urban fantasy field, and to supernatural fiction in general, with this series debut. Its deserved popularity rests on a solid base of literary quality.
Note: While there's no obscenity and little bad language of any kind in the book (the point is made that Mercy doesn't appreciate profane use of God's name), and no sexual activity of any kind, Briggs does devote a lot of attention to homosexual werewolf Warren's relationship with his human lover
Author: Patricia Briggs
Publisher: Ace Books, available through Amazon, both for Kindle and as a printed book.
A version of this review previously appeared on Goodreads.