"There are bad people in the world and they shouldn't be around the good people, especially the little ones,"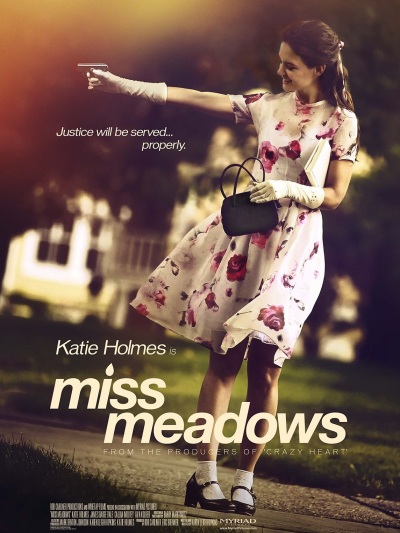 A young woman is walking down the street. A truck pulls up alongside her, and the driver starts talking to her, at first nicely, but gradually more crudely. When she spurns his advances, he pulls a gun. However, the woman pulls her own weapon from her handbag and shoots him dead. Welcome to the world of Miss Meadows (Holmes), where bad behaviour is countered with lethal force. It's an offshoot of the "urban vigilante" film, where someone goes off the rails in response to rudeness and the perceived failures of modern culture, rather than a direct threat. Falling Down was perhaps the first example, also seen in Bobcat Goldthwait's God Bless America. Both those were rather more acerbic than this, gynocentric entry, which perhaps has more in common with John Waters' Serial Mom. At one point, a cop calls Miss Meadows a "Pulp Fiction Mary Poppins," and that's a fairly accurate high-concept here.
She's a somewhat nomadic first-grade substitute teacher, with a past which clearly contained a defining trauma, who has long phone calls with her mother (Smart), and seeks to protect her local community from an influx of criminal elements. But when she meets and falls for a cop (Dale), who gradually realizes the woman he's seeing may also be the killer his colleagues are hunting. And he's not the only person who discovers the secret behind her facade. Meadows is an wonderful and engaging concoction, a throwback to an earlier era of politeness and courtesy, and its that contrast to her ruthless approach, tap-dancing her way to mass murder, that drives the film. It's not entirely successful; the storyline, overall, relies too much on good fortune and convenience [every fast-food restaurant I've been in has surveillance cameras; the one here, not so much], and also tends to the obvious – a priest who molests children, there's a shocker. It would make for a far 'edgier' film, if there was more grey involved in her targets, even at the risk of losing some of the audience. Killing paedophiles and murderers is an easy option, weakening the moral dilemma posed here.
But I thoroughly enjoyed Holmes's performance; I hadn't seen her in anything since Thank You for Smoking, back in 2005, before she became most famous for being Mrs. Tom Cruise. She takes a character that possesses two distinct, largely-opposing aspects, and nails it: Miss Meadows is, at once, charming and, clearly, barking mad, with a grip on reality that, we discover, may be a great deal looser than it initially appears. Concentrating more on these psychological aspects – perhaps instead of the rather implausible romantic angle – might have boosted this film out of the "quirkily forgettable" niche into which it is instead dropped.
Dir: Karen Leigh Hopkins
Star: Katie Holmes, James Badge Dale, Callan Mulvey, Jean Smart