"A tale – and heroine – of two halves."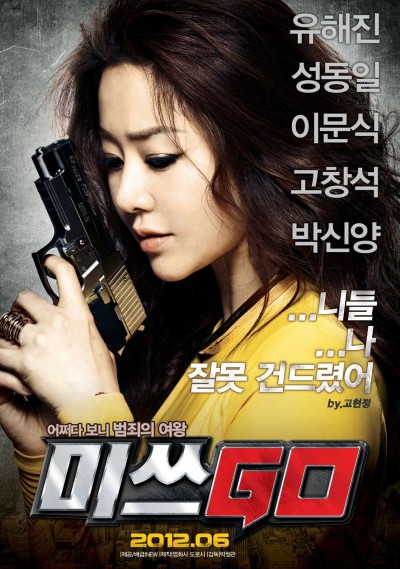 Chun Soo-ro (Go) is a painfully shy, introverted young woman, who is a little more than a bundle of neuroses. At the airport to see off her sister, she encounters a nun, who asks Soo-ro to deliver a package to her boyfriend – a concept which, personally, would set my alarm bells ringing! However, on her arrival, Soo-ro finds the intended recipient dead, and ends up fleeing the scene, in possession of both a large quantity of drugs, and the cash that was intended to pay for them. For obvious reasons, both the White Tiger and Sa gangs, the participants in the deal gone very, very wrong, are rather upset, and go on the hunt for her. For they believe Soo-ro to be the nun, who is unable to disagree, having been killed in a traffic accident. Fortunately, a cop working undercover takes pity and agrees to protect Soo-ro, although his resulting actions lead to exposure – and, meanwhile, the prospect of getting his hands on so much cash leads his boss to stray from the path of true justice. Fortunately, some unexpected hydro-shock therapy leads to a startling transformation in our heroine's character, and she arranges a meeting between all the interested parties.
Maybe it's a cultural thing, but this left me almost entirely cold. Or maybe not, since this wasn't particularly well-received in its native Korea either, I'm not averse to the "fish out of water" idea – one of my favorite book growing up was Robert Scheckley's Game of X, about a complete novice who finds himself embroiled in espionage, and I was hoping for something similar here. Unfortunately, this is certainly not funny, only sporadically exciting, ridiculously implausible, and the transition from shrinking violet to ice-cool superwoman is so abrupt as to be entirely disconcerting, almost as if someone switched out movies on you at the 80 minute mark.
From what I've read, it seems to have been intended as a showcase for Go, making her feature debut after becoming one of Korea's best-known TV actresses – mostly for playing roles closer to her later character here. She isn't bad in the role, and considering how irritating the performance here could have been, the fact that it isn't deserves some credit. However, "not being irritating" is hardly what you'd call a ringing endorsement for any movie. Things do perk up a little after Soo-ro blossoms into her femme fatale version, and you can't help thinking this would have been a much better version had the change happened about an hour earlier. Or better still, if it had taken place immediately after the animated opening credit sequence which is one of the movie's few memorable sequences.
Dir: Park Chul-kwan
Star: Go Hyun-jung, Yoo Hae-jin. Sung Dong-il. Lee Moon-sik