"Student by day, hooker turned assassin by night. I kid you not."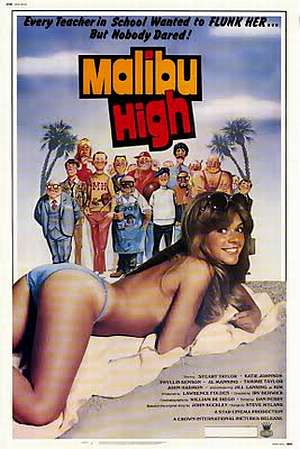 This one popped out of nowhere, on a box-set of discs called Drive-In Cult Classics: most of these were unremarkable double-feature fillers, and this started off looking the same way, Kim (Lansing) is fed up with life: she's still in high-school at age 18, is about to flunk it, has no money, just lost her boyfriend (Taylor), her father hung himself and her mom's a total bitch. Finally, she opts to use her natural resources (if you know what I mean, and I think you do) to resolve these issues – though when her mother suggested Kim get a job, I'm not sure she meant as a whore working in the back of a VW van for the ultra-sleazy Tony (Mann). Her 'popularity' there lets her move up to work for the slightly-less sleazy Lance (Howard). Which is where the film takes an abrupt right turn, as she discovers a taste for killing – not least on her former pimp – and starts work as, to use one of the movie's alternate titles, a high-school hit girl.
In other words: exactly the sort of lurid exploitation we love. Kim is just such a spiky, unlikeable heroine, she could never come out of Hollywood [the words "wildly inaccurate" leap to mind when looking at the poster, right]. While her tan-lines need work, one can only admire her single-minded and logical approach to resolving her problems – a true self-starter, able to work without supervision. Perhaps the high point is when Kim triggers cardiac arrest in her principal by showing him her breasts, after having flushed his heart medication down the toilet. If that description has you keen to see the film, you won't be disappointed. Of course, if you think that's tacky and silly… Well, you're spot-on there too, and it doesn't help that some of the stock music used here would later be re-cycled by The People's Court and SCTV.
Inevitably, of course, Crime Does Not Pay for Kim, and it ends in a foot-chase along the beach, with Kim's ex-boyfriend in hot pursuit. It's not the kind of film I could possibly recommend to a random stranger, but there's a loopy individuality at work here, that I thoroughly enjoyed. It's a movie intent in going its own direction, for good or bad, and doesn't care what you think. A nostalgic reminder for what drive-in movies should be about, it's something of a surprise that Lansing never apparently appeared in anything else, after this excellent piece of trash cinema.
Dir: Irvin Berwick
Star: Jill Lansing, Alex Mann, Stuart Taylor, Garth Howard