"Juggling family and career can be murder."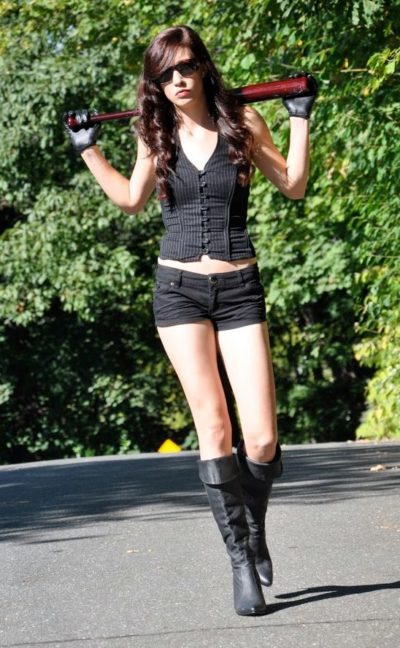 Maggie Marvel (Beretta) is a single mom, with all the issues that implies. She has to try and juggle work with raising young daughter, Samantha (Katherine Brennan), on her own. But complicating matters enormously, is that work in this case is operating as an assassin for criminal kingpin Dutch – who also happens to be Maggie's estranged father, who sent her away after his wife (and thus, Maggie's mother) tried to poison him. Maggie was raised instead by Dixie Brown (Barron), who also works for Dutch as a killer. For he believes women are better at the job, and though he employs men, such as Bobby Shea (Dan Brennan) and his brothers, they are kept for non-lethal work. However, this line gets blurred as Bobby has fallen for Dixie, and his request that Maggie work with him on a bank robbery – hoping to make Dixie jealous – kicks off a series of events that threaten to destroy Maggie, her family and the entire crime organization.
It's a good concept, and is helped enormously by Beretta, who was even more awesome in Hell Fire, even if her Australian accent requires some particularly convoluted explanations. Indeed, the story-line here in general is sometimes insanely complex, which explains why this runs 108 minutes: in some ways, I suspect less plot might well have been more successful here. Could certainly have done with less of the aspects which, particularly in the early going, occasionally make this feel like it's a fetish tape for glove enthusiasts… Instead, writer-director-costar Brennan (who cast two of his own daughters in this, as well as it being produced by his wife Jean, keeping it a family affair) could perhaps have expanded on the single mother aspects, Maggie using her skills to deal with bitchy PTA rivals, recalcitrant teachers, etc., in a way similar to Serial Mom.
However, there are still a number of positives, not just Beretta. Most of the performances are solid, and the technical aspects are better than I was expecting – it's often indistinguishable from a "real" movie. The comedic aspects work particularly well, in particular those surrounding the bank job. It involves both a vault which can only be opened by tap-dancing the combination, and also the impersonation of a German princess by someone who is neither a princess, nor can speak German. This kind of dry wit is endearing, and plays into the strengths of Beretta and the rest of the cast. The action is plentiful, though appears mostly constructed in the editing room rather than out of the participants' obvious skills. It's something of a shame the movie doesn't build to the expected face-off between Maggie and Dixie, instead diverting into one of the subplots, this one involving an actress hired to play the part of Maggie, because… Well. I'm sure there was an explanation somewhere. Like much of the film, probably best not to sweat such details, instead just appreciating a strong lead and the quirky independence here.
Dir: Dan Brennan
Star: Selene Beretta, Dan Brennan, Katherine Barron, Dianna Brennan