"Mexican lady mob boss runs out of steam, if not of costumes."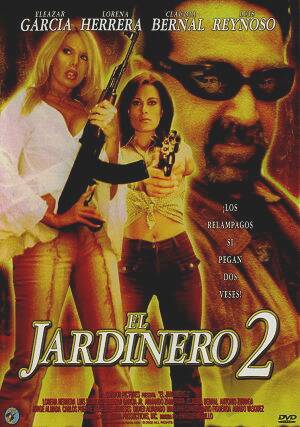 Not seen part one? Never fear! Thanks to the magic of flashback, we see that Lilia Gallardo (Herrera) killed her husband, shot his son Pablo, and has now taken over their drug business. This is to the dismay of his men who, with typically Mexican machismo, feel a woman is unsuited to the role, and also Pablo, who is not dead, but is now recuperating on a nearby ranch, waiting his opportunity for revenge.
This starts in fine, trashy style. Lilia is bleached blonde, collagen-lipped, and has wildly inappropriate outfits from Sluts R Us. Her approach to treacherous henchmen is fully hands-on, not to mention fully-automatic, and transcends the lack of English subs on the DVD. The sexist bitching lends an authentic edge to the idea of a woman operating in a man's world – and if you're wondering, credit to Chris who translated for me, while rolling her eyes at Lilia's clothes. Particularly the three-inch wide miniskirt…
Unfortunately, it gets bogged down and talky as things progress; the heroine recruits an assistant of somewhat alcoholic bent, and also gets involved with a South American Mr. Big. Meanwhile, Pablo is growing fond of the rancher's daughter (Bernal), but she witnesses a shootout, and is captured by Lilia's men. It's all rather more plot than I wanted to see, and the hoped-for face-off between Bernal and Herrera fizzles, despite what seems like significant setting-up. You know it's all heading towards a Pablo-Lilia showdown, and it's giving nothing away to say that's exactly where it ends, though even this comes off as something of a damp squib. Still, think we'll be keeping an eye open for its predecessor.
Dir: Enrique Murillo
Star: Lorena Herrera, Eleazar Garcia, Claudia Bernal, Luis Reynoso