"A product of a different era, when men were men…and so were the women."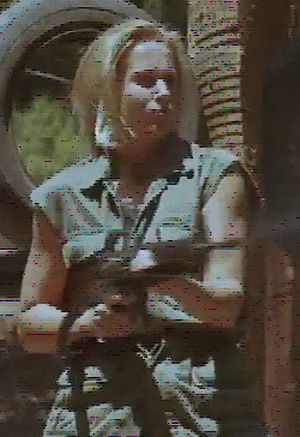 Mercenary Frank Ryan (Thompson) is hired by a shadowy private entiry to go to a Mediterranean dictatorship, and bust out the leader (José Ferrer) of the rebels, so he can lead a revolt against current leader Michael Bartos (Oliver Reed). The only way to get in, is for Ryan to become a "faggot" fashion designer, along with a team of special-ops trained supermodels – or perhaps that should be, supermodel trained special-ops ladies, since they're mostly bailed out of Turkish prisons, federal detention facilities, or otherwise have dubious pasts. After putting on their fashion show, and gaining Bartos's trust, the team hit the road and head cross-country to the remote jail where the leader is being sequestered.
I liked the subversive nature of this. Ryan is a homophobe, making his role somewhat troublesome – particularly when Bartos grabs his junk and snogs him, to see if Reed's undercover persona is who he claims (the most horrible thing about that is probably Reed's handlebar mustache). And he's also a chauvinist, bordering on the misogynist, unimpressed with his female associates, despite their obvious competence, especially crossing swords with local contact Ana (Moffett) – naturally, they end up bonking. Hey, it was 1990… I also enjoyed the variety of action heroines, each of whom have their own skills, useful to the mission, and genuine characters; despite the ubermacho cover, featuring Thompson looking very rugged, it does qualify for inclusion here.
What doesn't work is the plot. The supermodel angel is just too ludicrous and contrived a concept to be credible in any way, and if you can't come up with a hundred better reasons, you're not trying. Also, let's just say, what counted as "high fashion" at the time…now, not so much. There are other script holes, such as Bartos conveniently deciding to fly his chopper right into the battle zone, on discovering the plan. This helpfully sets up the final showdown (and, unfortunately, also led to the death of stuntman Clint Carpenter while performing an aerial stunt); however, it's not quite what we saw from, oh, Colonel Gadaffi. Still, this entertaining nonsense should keep your eyelids open as things unfold, and the scenery (of both kinds) is pleasing enough.
Dir: Nico Mastorakis and Peter Rader
Star: Brian Thompson, Michelle Moffett, Barbara Lee Alexander, Jordana Capra