"…and you thought your school sucked."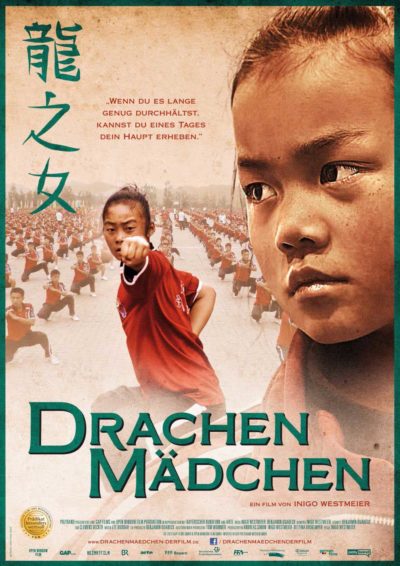 If you're familiar with Jackie Chan's life story, you'll know he (along with fellow future start Sammo Hung and Yuen Biao) was basically brought up in a Peking Opera school, where he learned martial arts and acrobatics as well as theatrical skills. Discipline there was notoriously strict – the film Painted Faces gives a good idea of what it was like. But that was the sixties. Surely no such abusive educational regime exists nowadays?
Well… This documentary suggests otherwise, though the scale is rather different. For the Shaolin Tagu school that's the subject here says it has 35,000 staff and pupils on a half-million square metre campus. When you see the opening, the screen filled from side to side and top to bottom with synchronized martial artists, it's not implausible. However, the reasons why parents send their children to these places haven't changed a lot. Typically the family is too poor, or the kids are too much of a handful, possibly heading into delinquency, and they believe the discipline will straighten them out.
The film focuses on some of the girls, some as young as nine, enrolled in the school, including one who had run away in the middle of the second year, and returned to her family. As well as the pupils, there are interviews with the coaches, the head of the school ("A community's backbone is shaped by rules," he says. "In here, those rules are very strict.") and the chief monk at the nearby Shaolin monastery, who offers a different (rather more laid-back!) perspective on what martial arts are about. There isn't much in the way of narrative here. While there are mentions of a tournament, I didn't realize it had taken place, until one of the participants was reporting to her disappointed father that she had failed to win first place. Some obvious questions are unanswered too, such as who is paying for this? Are these places state-sponsored?
Although the presence of the documentary crew may have reined in the harsher side of life at the school, the girls have no problem detailing the corporal punishment dished out, it seems at will, by the teachers, or the insect-contaminated food. There's one scene where the girls compare scars and try to one-up each other, which plays disturbingly like a teen version of the similar sequence in Jaws. But it's about the only one which sticks in the mind or goes any significant difference between the fairly obvious. I get the feeling we in the West are supposed to look on this disapprovingly, but there isn't enough digging behind the facade to justify it. For you could likely make something not dissimilar about any high-pressure training environment here – say, for gymnastics. The main difference would probably be that, here, parents have other options…
Dir: Inigo Westmeier
Star: Xin Chenxi, Chen Xi, Guan Luolan, Yang Ziyu
a.k.a. Drachen Mädchen