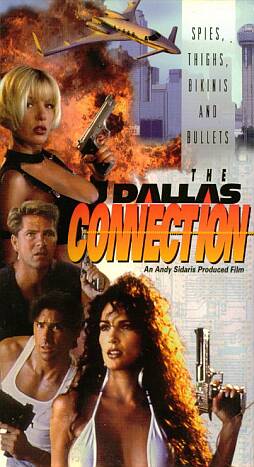 Among Sidaris fans, I imagine arguments over whether this one counts, much like the Never Say Never Again debate among 007 lovers. For this was directed not by Andy, but son Drew; Dad and Mom were merely executive producers. However, the content is much the same, though (and I can't believe I'm writing this) Drew lacks the subtle touch of Sidaris Sr. Case in point: the very first shot is of the Eiffel Tower, establishing that this is Paris. However, the point is then rammed home with footage of the Arc De Triomphe, Place de la Concorde and Notre Dame. Similarly before the 'South African' scenes; we get so much wildlife footage, it feels more like the Discovery Channel.
The story, also by the director (using his first name, Christian), is equally poor; something to do with a plan to steal chips being used in a new satellite system. Details are vague, too many sequences, such as the one at the race-track, are just meaningless filler, and the writer literally doesn't know his acronyms from his anagrams. On the plus side, Julie Strain makes a good impression as a bad girl, leading her coven of killers who drop their tops at the drop of a…well, not just hat, but virtually any other piece of clothing.
They operate out of what appears to be a combination line-dancing bar/strip-club called Cowboy's in Dallas, where the four chips are scheduled to be integrated into the system. For safe keeping, the "bureau" give one to each of their agents – what's wrong with a bank vault? – led by the ludicrously over-inflated Samantha Maxx (Phillips). Another key clue is bullets found at the scene of a drive-by shooting, days after the event. I'd have words with your forensic technicians.
Long before the end, we were making our own entertainment, and you'll probably get more fun from mocking this. One line is, "I told you – I bite", to which the correct response is, "Unlike the rest of the film, which simply sucks." "Do you think those are real?" asked Chris at one point, regarding a particularly scary pair of mammaries. "Yes," I replied, "and the Pyramids are a naturally-occurring rock formation." Little wonder Drew has since been relegated by Dad to second-unit work.
Dir: Drew Sidaris
Star: Sam Phillips, Bruce Penhall, Julie Strain, Wendy Hamilton