"Captures the true spirit of independent wrestling on the road. Especially the tedium."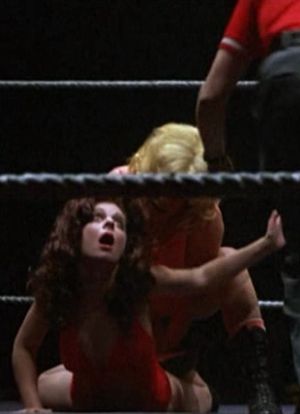 Rosa Rubinsky (Baff) is working as a waitress at a wrestling venue, when her swift dispatch of an over-affectionate coworker gets her noticed by a promoter (Bechler). He convinces her to try out, under the watchful eye of Mildred Burke [playing herself – she held the Women's World Championship for about 20 years], and after some initial shock, discovers she likes the theatrical sport. Despite never having been outside the state of New York, she goes on the road, along with a set of other women wrestlers, and they travel up and down the East coast, putting on shows, though Rosa is still deemed too "green" to get in the ring. That changes after she meets the current women's champion, Terrible Tommy (O'Brien, another genuine wrestler of the era). A bout for the belt is arranged, in which Rosa – known now as "Rosa Carlo, the Mexican Spitfire" – will take on Tommy for the title.
Inspired by the recently-republished novel, To Smithereens by Rosalyn Drexler, in turn inspired by Drexler's brief career in the squared circle as "Rosa Carlo", when she wasn't hanging out with the likes of Andy Warhol, this certainly captures the non-glamourous side of the business well. If you're used to the WWE and its divas, the women here will seem like they come from another planet, not exactly the skinny supermodels now near-exclusively seen: I don't know about you, but Terrible Tommy sure put the fear of god into me, and some of the others have faces that could stop a clock. However, it just doesn't make sense for Rosa to make her debut in a title match: from what I know of wrestling, you have a long apprenticeship before you get that far, and instead of ring action, this leads to lots of scenes in cars, as the women drive from city to city, interspersed with semi-random wrestling footage that makes no sense and serves no real purpose.
And then there are the montages… I didn't realise this was a musical. Ok, the characters don't sing, but it seems like every few minutes, there's a song over a cinematic backdrop, to the extent that it goes beyond good, to bad, and then right through to a surreal point where it almost, but not quite, makes sense again. Negatives like that do outweigh the moments of truth, such as the promoter giving Rosa her ring-name despite her loud protests, or the comment that "Old wrestlers never retire." This one is more a curtain-jerker than a main event.
Dir: Robert Fowler
Star: Regina Baff, John C. Becher, Annie McGreevey, Jane O'Brien