"As flat as a Dutch landscape."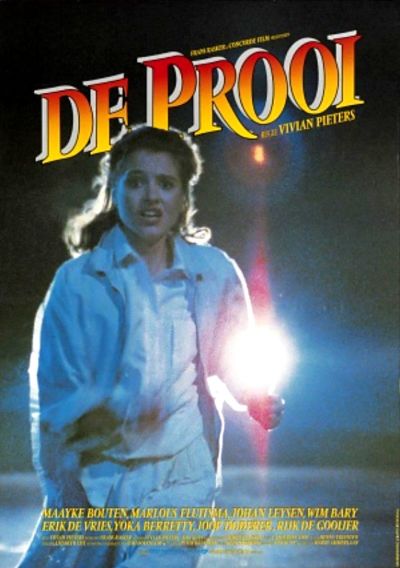 The life of 17-year-old Valerie (Bouten) is turned upside down when her mother is killed in an apparent hit-and-run accident. But that's nothing compared to the post-mortem discovery that her mother had never had any children. So who was her real mother? As Valerie tries to pick at the scab of her own history, it becomes increasingly clear that someone does not want the past to be revealed, and is prepared to go to any lengths to make sure she doesn't open any doors that should remained closed. But who has the most to lose from the skeleton in the closet? Her mother's former employer, a local lawyer? The garage owner, who  is in her mother's address-book, but professes angrily never to have heard of her? The creepy next-door neighbour Ria (Fluitsma), who moonlights in a peep show? The ever-so helpful member of the local constabulary, Inspector Mellema (Leysen)? Or even Valerie's boyfriend, who seems to have an agenda of his own. Though since he's a teenage boy, that might just be getting into her pants.
This seems to be going for a Dutch giallo feel in some ways, most obviously at the end, in a lengthy sequence where Valerie is pursued through her house by a masked assailant. But it never reaches the necessary levels of nightmarish excess trawled by the best Italian examples, and comes over mostly as listless and uninteresting. Indeed, this could almost pass for a TV movie, outside of Bouten's fondness for taking her top off, and the previously-mentioned sojourn to a peep-show in the Amsterdam red-light district [which brought back some memories from my wasted youth, having visited said area of iniquity during my college days, around the mid-eighties era when this was made!]. But, like a good number of the other threads here, this subplot doesn't go anywhere, and the film spends too much time on its red herrings, especially when compared to establishing the motivations of the real culprit. As a result, these come over barely cooked, and not very convincing when revealed.
Bouten does actually make for a half-decent heroine, pursuing the truth about her own background with a steely determination that's quite endearing, no shortage of personal risk, and not a great deal of help from anyone. Certainly, her boyfriend is a waste of space, and Mellema seems far less committed to the investigation than Valerie. Perhaps fans of Veronica Mars might be more inclined to appreciate this: I'm not among their number – though, admittedly, this is as much due to ignorance as any aversion – and this made almost no impression on me.
Dir: Vivian Pieters
Star: Maayke Bouten, Erik de Vries, Johan Leysen, Marlous Fluitsma
a.k.a. Death in the Shadows, the title under which it shows up in a couple of those monster 50-movie packs, e.g. Suspense Classics or Pure Terror.