"I preferred this the first time, when it was called Naked Killer."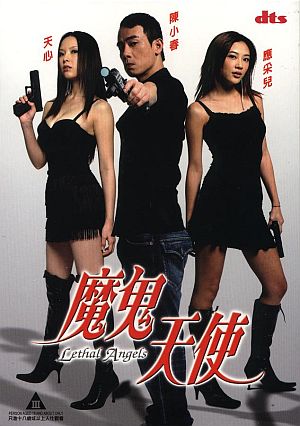 Winnie (Lee) has a grudge: against gang boss Bowen (Yuan) in particular, but also against just about any man who abuses women. She puts together a team of four underlings, such as Yoyo (Sum), whose family was killed by thugs, and uses them to take out anyone whose lustful desires overwhelm their common sense. Now, it's time for the big one: Bowen. Winnie sends Yoyo in as an undercover nanny, to scope things out and obtain evidence of Bowen's illegal dealings. However, once in, she finds out that Bowen is now largely reformed, and Yoyo also objects to Winnie's plan to wipe out all of Bowen's family, including his six-year old daughter. Meanwhile, she's also being investigated by Jet (On), a cop who knew and almost dated her at college, and is on the case of the mysterious deaths of mob bosses at the hands of beautiful ladies.
This is just too restrained to work. There's a striptease routine by one of the minor underlings at the start, but after that, it conspicuously fails to live up to its alternate title, of Naked Avengers. Lee is good value as the overlord, but if you think you've seen it all before, you probably have. Even the scene where one of the girls has to take on a chained pervert for training purposes is lifted, wholesale, from Naked Killer – except, rather than in a dungeon, it appears here to take part in a car-park or something. [There's a prominent "keep left" sign in the background, whose looming presence reminded me of nothing more than the ending to a Monty Python sketch]
The action occasionally has its moments, but rarely gets above competent, and it's only in the final battle, where the schisms in the group fracture and send it on a path of self-destruction, that things become somewhat interesting, and it's a case of too little, too late. Instead, there's too much time spent on Jet, who is a waste of space and screen-time, and his lacks of charisma means his relationship with Yoyo has as much chemistry as…as… a thing that doesn't contain any chemistry. Man, I hate it when a simile falls apart, half-way through. Or is it a metaphor? That I was pondering such grammatical issues during the viewing, probably tells you more about the film than anything else. If there's a single way in which Naked Killer isn't clearly better, I think I missed it.
Dir: Steve Cheng
Star: Tin Sum, Andy On, Jewel Lee, Yuan Yuan