"Fight off the Living Dead"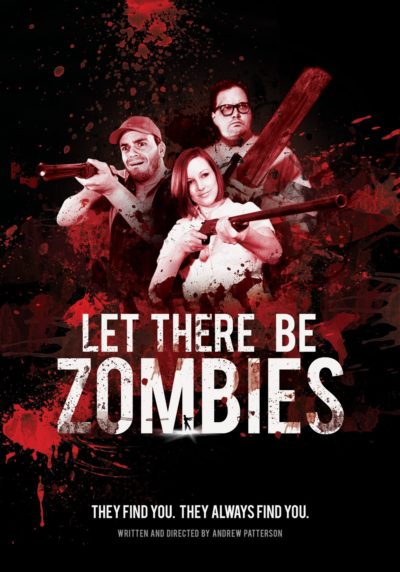 It's curious to look back at the history of zombie movies, which as we know them, began with a low-budget horror film called Night of the Living Dead, in 1968. Almost fifty years later, zombies have gone utterly mainstream, giving us films such as World War Z and the most popular show on basic cable, The Walking Dead. But it has also re-spawned its own slew of low-budget genre entries, many of which prove the truth of the statement, "Just because you can make a zombie movie. doesn't mean you should make a zombie movie." Even as a horror fan, I will happily admit many of these should have been strangled at birth, rehashing over-familiar story-lines with poverty-row production values and inexperienced talent on both sides of the camera.
This is not quite in the same category of being irredeemable. Certainly, there's nothing much new in the story of a handful of survivors struggling to cope in the aftermath of a zombie apocalypse, and the effects are workmanlike at best. However, it managed to sustain my interest somewhat better than many of its undead siblings. The heroine is Drew (Daly), a rookie teacher painfully unable to handle disruptive pupils her class – as she's told, "Control the situation, don't let the situation control you." Before she can do that though, the apocalypse strikes and in trying to flee, her car runs out of gas in the middle of the countryside. She meets another lost soul, computer programmer Jeff (Lowe) and they try to find safety, eventually ending up on the farm run by Red (Monsante) – but it's only a brief respite before the hordes track them down there, and Drew is going to need to transform from her milquetoast personality, if she's to have any hope of surviving.
It's this character arc which qualifies it for inclusion here, though it's less of an arc than the flicking-on of a psychological switch. One second, she's afraid of her own shadow; the next, having found a gun, she's blasting away at the undead like they were a fairground attraction. This could be sloppy writing, or it could be a deliberate statement on the immediate empowerment obtained by possession of a firearm. Certainly, she's a good deal more interesting once she's in bad-ass mode, and by the time of the film's coda, she has more or less turned into Alice from Resident Evil – albeit, without any of the cool moves. The script, however, is extremely hit-or-miss: if there were a couple of moments, where I'll confess I did laugh, there are just as many where poor delivery killed any potential. Patterson and the rest of his cast and crew clearly have a deep love for the genre. That can only take a film so far, and unless you have a similar affection, there's only so much entertainment to be found in watching the walking dead get prodded with bits of wood.
Dir: Andrew Patterson
Star: Sydney Daly, Manuel Monsante, Doug Lowe, Enrique Arellano