"A feature-length advert for NOT wearing your seat-belt."
Mallory (Hough) is driving to Denver for her wedding, though has some qualms about the upcoming event. She opts to take the scenic route, but her car breaks down – she's startled, but delighted, when back-packer Christian (Sears) shows up out of nowhere to fix it. She offers him a lift, only to find once they hit the road, he's a couple of sandwiches short of a picnic. Realizing the dire straits she's in, and that she's wearing her seat-belt while he isn't, she opts to crash the car into a ravine. However, the result is the exact opposite of what she wants: Christian is thrown free, and Mallory trapped by her ankle in the wreckage. Realizing he has a captive toy, Christian wanders off to terrorize the residents of a nearby cabin, but pops back occasionally to taunt his victim, who is forced to extreme measures to survive, while trying to figure out a way to escape.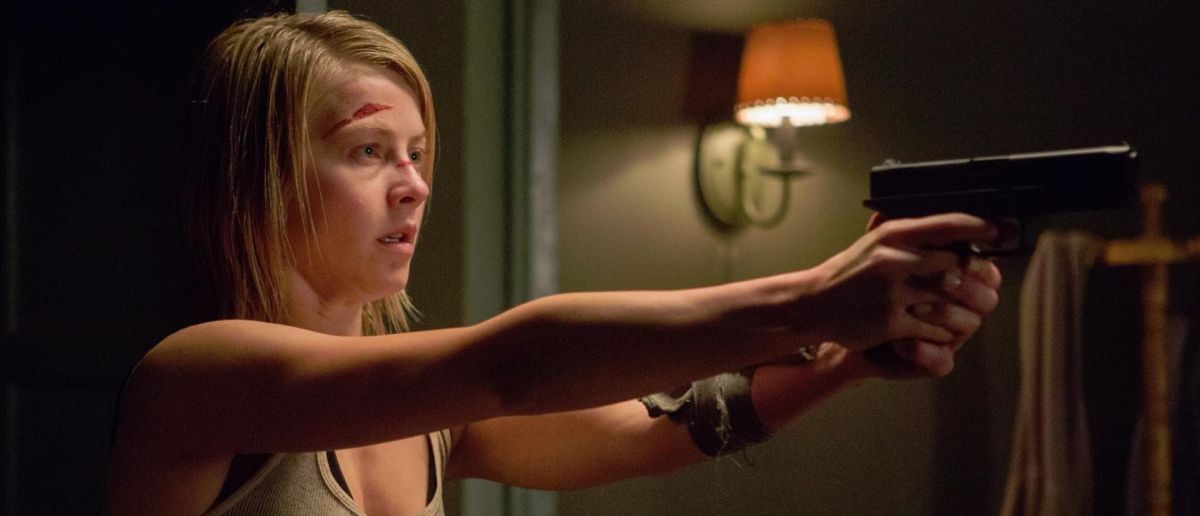 It's a perfectly reasonable way to pass the time, and given its obvious limitations – there are barely a handful of speaking parts and the bulk of the running time takes place in and around the single location of Mallory's car – works within them reasonably well. It's a little weird to see Hough, whom we recently watched play Sandy in a televised "live" version of Grease, cooking and eating rat, and contemplating going all 127 Hours on her leg, but she pulls it off decently enough. Less effective is Sears, though he has the problem of walking in the footsteps belonging to the pinnacle of psychotic hitch-hikers, Rutger Hauer in The Hitcher; it'd be hard for anyone not to be overshadowed by that comparison. On the other hand, I like the way Mallory is thrown entirely on her own resources: there's no knight in shining chain-mail coming to her rescue here.
For obvious, ankle-related reasons, this only kicks into high gear once the heroine has extracted herself from the car, and the boot goes, at least somewhat, onto the other foot (hohoho), as she begins to hunt Christian – the still, above, is obviously from the later section. It likely does take a little too long to reach this point, and once it gets there, offers at least one element of shamelessly obvious foreshadowing, which had me rolling my eyes when it appeared, then again when it came to pass. Yet I can't say this affected the overall respectable level of enjoyment provided here. No-one could ever describe this as ambitious, and I was surprised to discover this was by the director of Hackers, as it seems a much smaller work. That aside, there's something to be said for aiming low and hitting your target, rather than over-estimating your resources and talents, then falling short. This definitely falls into the former categoty.
Dir: Iain Softley
Star: Julianne Hough, Teddy Sears