"Do we really need a ghetto, microbudget version of Charlie's Angels? But then, did we really need the TV reboot?"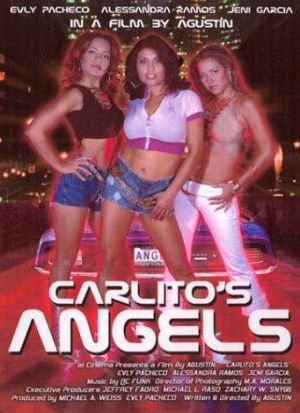 In many ways, this is wretched beyond belief, crippled by near non-existent production values and likely only to appeal to those who live in the urban culture depicted. And yet… For every moment of wince-inducing idiocy [Agustin appears to be a big fan of Benny Hill, using speeded-up footage for "humourous" effect more than once], there were moments of surreal charm. For instance, "Captions for the Hispanic-impaired," or the really terrible fight scene which breaks the fourth wall, turning into a "making of" segment which (and I can attest to this) accurately depicts the hell of being a microbudget moviemaker. Or that the large family of children belonging to one of the Angels includes a bearded midget. "He just showed up one day. Hey, he buys groceries, it's cool" is her casual explanation.
As you'd expect, it's a spoof, with the three leading ladies living in Harlem, and as in the original, getting their orders from Charlie by phone – except, here, that's because he's locked up in jail. While sent undercover at a strip-club, supposedly to track down some white girl whose sleeping with a local guy, they overhear their landlord Big Lou (Reynosa) getting a loan from the Mafia guy who owns the club. He promises to pay the loan back by fixing the "boleta," the local numbers game. They're not going to tolerate this attack on an integral part of their culture, so have to stop him and his associate, Triple Gauge, before they can bring this heinous plot to completion.
Credit the three leads for giving their all, attacking their characters with a great deal of energy, that helps overcome some of the obvious limitations. I'm pretty sure a lot of cultural references went whizzing way above my head, but as the kids say, I'm "down" enough [Phoenix is pretty Hispanic] to be able to get a good chunk. The plot is pretty awful, the action falls short of even the 1970's original version, and there's way too much yapping, of a style generally seen on afternoon talk-shows. But there's a sense the people involved have genuine enthusiasm, and made it for the love of film-making. At barely an hour between (rather nifty) comic-book styled opening credits and (entirely unfunny) bloopers which close things out, it can hardly be accused of overstaying its welcome. I probably enjoyed it more than the grade above suggests, but I own the very substantial tolerance for poverty-row productions required; your reaction will likely depend on that.
Dir: Agustin
Star: Evly Pacheco, Alessandra Ramos, Jeni Garcia, Raymond Reynosa