"It's a cover-up!"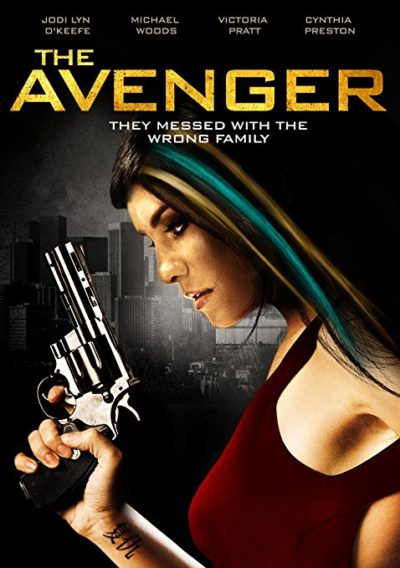 Teetering on the edge of qualifying as false information, this TVM was originally released under the more relevant, yet great deal less salacious (and, let's be honest, less appealing) title of A Nanny's Revenge, along with a greatly subdued sleeve. Marketing works, people: for put it this way, I'd never have watched it in that presentation. I can't feel utterly cheated, even if what I got is closer to a low-rent version of The Hand That Rocks the Cradle than the tempting treat promised by the cover.
Gina Wright (O'Keefe) has a really bad day – though likely not as bad as her parents. For her father dies in a building-site accident, and her mother in a car crash as she rushes to hospital. The site owner, mogul Parker Randall (Pratt, channeling Alec Baldwin), seeks to cover up the shoddy Chinese materials responsible, and fakes a toxicology report to show that Gina's dad was drunk. A bit of a white knight – we first meet her quitting her job as a teacher, in support of an unjustly fired colleage – Gina won't stand for that. So she hatches a plan to expose Parker's wrongdoing, and to that end, worms her way into a job as nanny to his son, by befriending his wife, Brynn (Pratt). Little does she know, however, that her employer's predatory instincts are not limited to the business world, and he's making plans for a hostile takeover, if you know what I mean, and I think you do.
There was a moment towards the end of this, where for one glorious second I thought Gina, Brynn and Parker's spurned mistress were going to team up in order to take revenge on the man they all have good reason to hate, in a Murder on the Orient Express kinda way. I'm filing that one away in my box of script ideas for potential future use, since the movie here failed to take advantage of it. That's inexplicable, since what it instead delivers is more or less entirely predictable, and if generally competent and not badly-acted, rarely gets beyond the obvious. For instance, we know Gina is impulsive. Because someone explicitly tells us she is. Oh, and she wears a nose-ring (although does not sport the neon highlights shown on the cover), which in the world of TV movies, is one step above being a crack whore.
There's an entirely unnecessary subplot involving a colleague of her Dad, who is trying to take Parker to court – he meets the end necessary to the plot, in order to show how ruthless a villain Gina is facing. Indeed, by the end, you'll likely find yourself with a long laundry-list of ways in which this could have been improved, or come closer to the movie promised by the sleeve. More violence. More nudity – well, make that any nudity. Boost the subtext about big business being bad into a whole class-war thing. Make Parker look slightly more like Donald Trump. Instead, you'll get this vanilla pudding: filling enough, just not what many people would call tasty.
Dir: Curtis Crawford
Star: Jodi Lyn O'Keefe, Michael Woods, Victoria Pratt, Cynthia Preston
a.k.a. A Nanny's Revenge