"If India is to be free, women must be given their freedom. If you try and stop them, you'll face the consequences." — Diamond Queen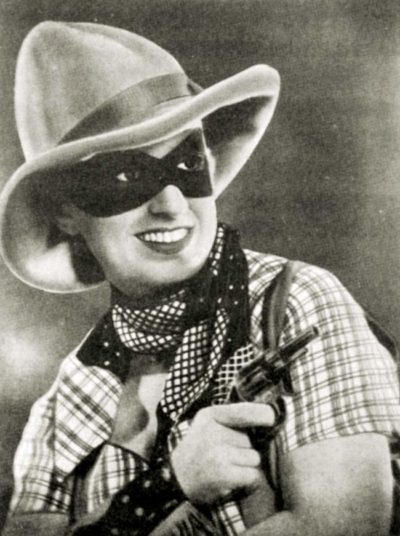 For more than four decades, the Indian cinema industry, popularly known as "Bollywood", has been the most prolific in the world, producing close to a thousand features per year. It has also been active for longer than you'd think; the inaugural Indian feature came out in 1913, just two years after Nestor Studios became the first to open its doors in Hollywood. Perhaps most surprisingly, there's a case to be made that it was also the birthplace of the action heroine feature film, with 1935's Hunterwali. Weirder still, it made a star of "Fearless Nadia", its leading lady – who was actually 27-year-old Australian, Mary Ann Evans.
There had already been some action heroines in America. However, these were almost exclusively in series such as The Hazards of Helen, which ran for 119 episodes of twelve minutes, from 1914-17. Like James Bond, the actresses who played the lead changed over time, but the most-used was Helen Gibson. She's also considered the first professional stunt-woman in Hollywood, and graduated from that role on Hazards, going on to portray Helen in 63 episodes. Unfortunately, as with so much silent cinema, the entire set is now close to lost, just a few parts surviving. However, it's impact was not limited to America.
"Suddenly, out of the unknown there arises a mysterious personality called 'Hunterwali'… Protector of the poor and punisher of the evil-doers, and by her daring adventures, she leaves all people spell-bound."
In 1933, brothers  J.B.H. Wadia and Homi Wadia founded Wadia Movietone, a production company specializing in action, fantasy and mythological films. Among the cast in early works such as Noor-E-Yaman was Evans. She had been born in Western Australia in 1908, then moved to India with her family at age five, when her father, a British Army soldier, was sent to Bombay. Though he was killed in World War I, Mary Ann picked up a range of skills, from horseback riding to ballet, and toured India as part of a theatrical troupe in the early thirties. This helped lead to bit parts for the Wadia Brothers, who then created the role of "Hunterwali" – "The woman with a whip" – specifically for her. Adopting the "Fearless Nadia" name, Evans' blonde, statuesque appearance was quite the contrast to the typical heroines of the time. This likely contributed to her acceptance in action roles by the Indian audience, despite her Hindi dialogue being delivered with a heavy accent.
Hunterwali is the story of Princess Madhuri (Evans), who has a secret identity as a masked vigilante, fighting injustice with her whip, and the help of her faithful horse and dog. The production was a gamble for the Wadias. Production took six months and cost 80,000 Rupees – about $30,000, a huge sum at the time for a local film. But the risky, unproven concept meant they were unable to find a distributor, so ended up taking that role on themselves. It worked out: the novelty of a blue-eyed action heroine, doing all her own stunts, proved impossible to resist. Crowds flocked to cinema halls for months to see the 164-minute epic, giving Wadia one of the biggest box-office hits of the entire decade. Sadly, the film too is apparently now only available in an incomplete version.
"Nadia is to stunts what Jane Russell is to sex."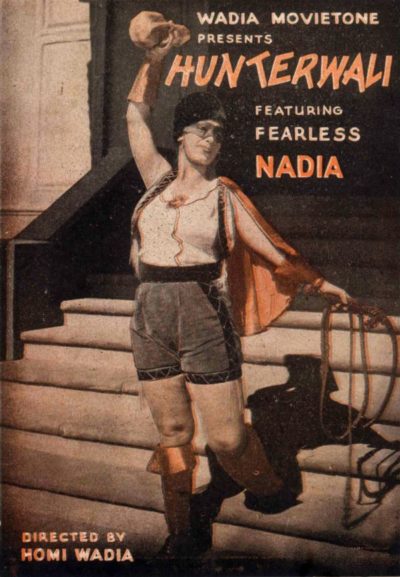 So said Bollywood film writer, B.K. Karanjia, who remembers meeting Nadia on the set of one of her films in the forties. "To my considerable amazement, she did every stunt in a sort of bindaas (carefree) manner. She didn't take herself seriously. She did not take her stunts seriously. She was never afraid, always laughing, whistling and joking." Hunterwali launched Nadia's career, which continued in films with titles such as Miss Frontier Mail, Diamond Queen, Jungle Princess and Lady Robinhood. The characters may have varied, but some elements remained the same. A fierce devotion to the oppressed and the punishment of villainy. Her loyal horse, dog and even a car (an Austin, semi-ironically named "Rolls Royce Ki Beti" – "Daughter of Rolls Royce"). Sayani Atish was a regular villain. and bodybuilder John Cawas also frequently appeared.
The main element, however, was the showcase provided for Nadia's willingness to do her own action, in a way no modern star would do – or be allowed to do! As her career progressed, the stunts required became increasingly dangerous. Even in Hunterwali, she "fell flat on her face from a great height," in a scene where she was supposed to swing from a chandelier, and was also almost swept away filming a scene in rapids near Bombay. Raging waterfalls? Jumping from horseback onto a ladder dangling from a plane? Fighting multiple lions? Not a problem for Nadia. "I'll try anything once," she famously said, and another journalist, Rauf Ahmed concurred: "In those days, Fearless Nadia did stunts that even men didn't attempt."
Her career lasted through the forties and fifties, albeit with the action components slowing as she moved into her own forties and fifties. She married Homi Wadia in 1961 – their wedding having to wait first for the death of his disapproving mother – and effectively withdrew from cinema. She came out of retirement for her final role in a James Bond spoof, Khiladi, in 1968, before retiring to raise thoroughbred horses. She died at the ripe age of 87, in 1995. In the past few years, there have been rumblings of a bio-pic, with names mentioned in connection with the role ranging from Franka Potente to Uma Thurman, and even Angelina Jolie said she'd love to play Fearless Nadia. Conflicts with her family reported derailed one project, but it's still being kicked about. It's certainly something I'd love to see; since there have been few, if any, characters in the history of motion pictures, quite like Fearless Nadia.
Read: our review of Miss Frontier Mail.